Health
How Hand Therapy Can Help Treat Osteoarthritis

+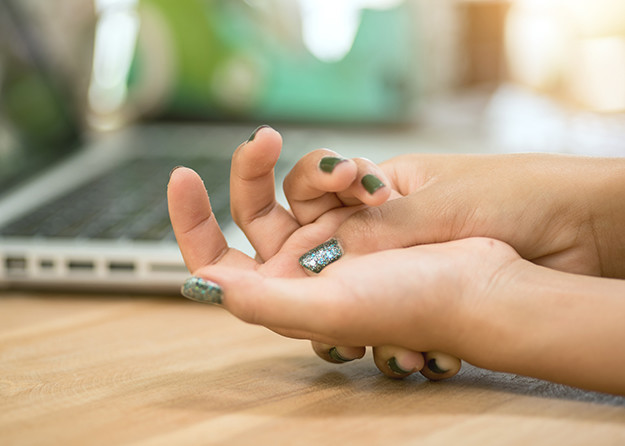 When you think of physical or occupational therapy, you probably think of it for big injuries, like a torn ACL or breaking your wrist. But PT/OT can help many conditions—even ones that you might not think of as severe, like osteoarthritis in the hands.
If you've been diagnosed with that condition, you may sometimes have trouble performing everyday tasks like opening jars or peeling vegetables. A primary care physician or a specialist like a rheumatologist may refer you to a certified hand therapist, but some doctors unfortunately don't bring up this option with patients.
"With a lot of people, with conditions like osteoarthritis and degenerative diagnoses, no one is telling them that you can seek a therapist. A lot of times the public doesn't know that these opportunities are available and that insurance may cover it," says Kelsey Zamoyski, a certified hand therapist, occupational therapist, and the owner of Defy Therapy & Wellness in Miami, Florida.
Why might it be worth it? An occupational therapist helps teach you strategies and exercises that help you do the things you need or want to do on a daily basis. Zamoyski says that 75 percent of her patients report a decrease in pain. They also tend to walk away with a greater sense of control, understanding, and hope. "I can't cure arthritis, but I can help increase mobility so they can continue being independent and doing what they love," she says. If you're interested, here's what you need to know:
What Kind of Therapist to See
You're going to want to find a specialist. Make sure you see a "certified hand therapist," (CHT) an occupational or physical therapist who has at least five years of clinical experience (including a minimum of 4,000 hours treating hand and upper extremity disorders), has passed a comprehensive test, and must recertify every five years. To find one near you, you can try this app developed by the Hand Therapy Certification Commission, or ask around at local clinics. Your doctor may also be able to recommend someone to you. Note that no matter where you find one, depending on your health insurance, you may need a referral to have your visits covered.
What to Expect
You'll start by getting a thorough evaluation. The CHT will ask you a lot of questions and want to know what activities you can and can't do comfortably, what your goals are, what injuries you may have had in the past, and what types of treatments you may have tried in the past. Then they'll perform basic tests, looking at areas such as range of motion, grip and pinch strength, tactile sensation, and fine motor coordination.
Every patient's treatment plan is different, but Zamoyski tends to see osteoarthritis patients one-on-one for one hour at a time, twice a week, for three to four weeks. Some of the techniques that Zamoyski uses in her practice include:
An exercise program: She teaches patients how to do a handful of exercises and then advises how to do them at home between sessions. Too little exercise can be damaging, but being overly aggressive can also have a negative effect, Zamoyski says. A CHT can help you find the right balance.
One example exercise she teaches is called the Towel Grasp. You place a dishtowel flat on a table in front of you. Then you bring it toward your body slowly with your fingers, a few inches at a time, so the towel folds like an accordion. Once it's all gathered, squeeze it gently and then flick it back out slowly, a few inches at a time. She has patients do five to fifteen of these every day or every other day, increasing the repetitions gradually. Your therapist may also have you work with putty, rubber bands, and other equipment you may have at home.
Adaptive equipment: Zamoyski can make changes to the handle on a toothbrush or fork to make it easier to grab, put a magnetic clasp on a piece of jewelry, and teach a patient how to use something called a button loop to button a shirt, to name just a few types of tools. She can also develop a schedule with a patient that builds in breaks so someone could, for instance, keep knitting but do it more comfortably.
Modalities: Using electrical stimulation, ultrasound, paraffin wax, and gentle massage may also provide relief for patients.
Splinting: Sometimes Zamoyski has patients wear a splint—maybe at night or maybe on and off for a few hours during the day—to support the hand and help prevent the joints from flaring up. Your therapist can help you purchase one, or may even make a custom one for you.
What Else Can Help
In addition to what your therapist teaches you, there are some other easy solutions to try. You can take a non-steroidal anti-inflammatory drug like Advil (try the bottle with the easy-open arthritis cap) to ease the pain. Your therapist may recommend using heat packs, ice, or a combination of both when you're at home. And don't be afraid to raise your hand and ask your doctor about other treatments that may help you find relief.