Diagnosed with Ovarian Cancer at 30, One Woman's Inspiring Journey to Motherhood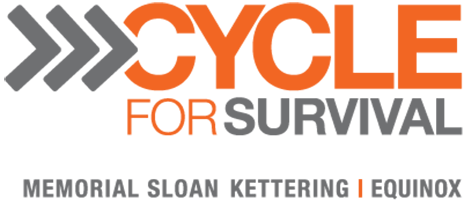 +

Lyndsey was diagnosed with a stage 4 ovarian germ cell tumor at age 30. Now, she has two beautiful children and fundraises to give her kids a better future.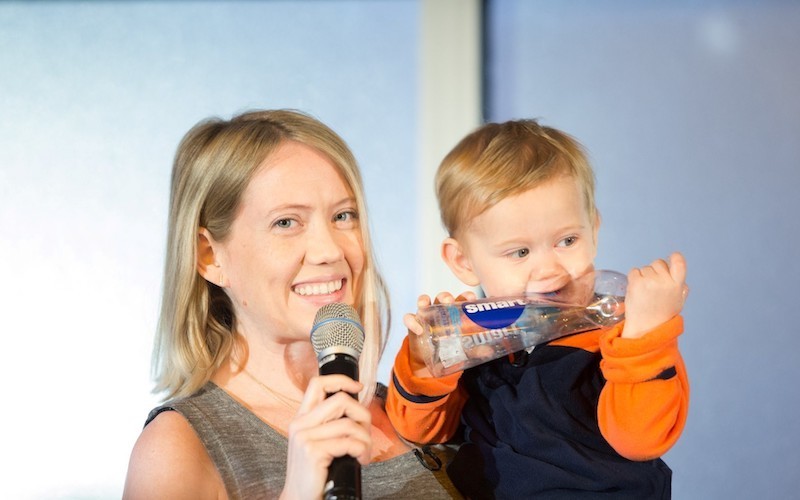 In 2014, three separate doctors thought the excruciating pain in Lyndsey's abdomen was just a cyst in her ovary. She wanted to trust their advice, but she worried that it was in fact a more serious condition. They told the 30-year-old that they'd seen it before and that it would pass, but the pain grew until she couldn't function and needed emergency surgery. The operation revealed that it wasn't a cyst—it was cancer, and Lyndsey had a stage 4 ovarian germ cell tumor.
"I got really dizzy. I was completely side swiped," Lyndsey remembers. Afterwards, she sat and cried with her husband in the parking lot. She didn't want to fight the diagnosis and put more stress on herself. "I was like, you know what, if it has to end, I've had a really good life. I've done so many things and I'm really grateful."
The hospitals Lyndsey went to in her hometown of Cleveland had only seen a handful of cases of ovarian germ cell cancer, as it only makes up about two percent of all ovarian cancers. "They were really back and forth on how to treat me," Lyndsey says. "The whole process seemed to move much slower than you would have imagined." During this time, her husband went into action. He wasn't giving up. He did the research to find the best doctor, which led them to Memorial Sloan Kettering (MSK) in New York City for a third opinion.
MSK knew how to treat Lyndsey's tumor, and she felt confident in their experience with rare cancers. "They just acted so quickly," she says. "Time was of the essence." MSK partnered with a hospital in Cleveland so that Lyndsey could do her chemotherapy at home and only travel to New York for her scans, biopsy, and surgery.
By July 25th, the day of her surgery, she had completed four rounds of chemotherapy that were so harsh she had to stay in the hospital for a week at a time. She signed off on a full hysterectomy — her doctor told her if the tumor was touching anything other than her ovary, having a full hysterectomy would help prevent another tumor in the future. When she woke up, she learned she hadn't needed a hysterectomy. Her hope of being able to get pregnant was restored. A week later, there was more good news when Lyndsey got a call from her doctor: she had no evidence of disease.
While undergoing treatment, Lyndsey and her husband would light a candle underneath the statue of Saint Jude across the street from the hospital. When they found out a few years later that Lyndsey was expecting, and that the due date was the same date as her life-changing surgery, they knew they had to call their baby boy Jude. Meanwhile, the ER doctor in Cleveland who first found Lyndsey's tumor went on to deliver both of Lyndsey's children. Her second child is named Campbell, after her.
Lyndsey has been in remission for five and a half years, and for the past six years she has been involved in Cycle for Survival, MSK's annual indoor cycling fundraiser. One hundred percent of every dollar raised goes to rare cancer research, and the funds have led to new and better ways to diagnose and treat cancer, making a difference for cancer patients and their families worldwide.
Lyndsey's favorite part about being a mom is creating memories with her kids, and she is looking forward to bringing them to a Cycle for Survival event and showing them how meaningful it is to be part of a community fighting back against rare cancers. "It feels like Christmas," she says. "It's a part of us now. There's no way we could not be involved and support MSK," she says. "If you want to change the future for people who will be diagnosed with cancer, I feel like Memorial Sloan Kettering will be the hospital to do it. This is the best way I know how to express my gratitude for all I've been given. I believe this is how we can all make a difference for the next generation."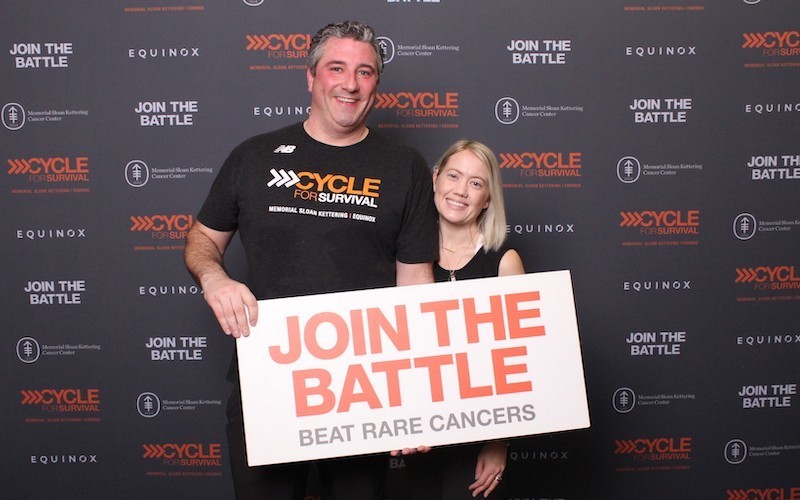 About half of all cancer patients are fighting a rare cancer, and they often face limited or no treatment options. As Memorial Sloan Kettering doctors and researchers pursue new treatments, Cycle for Survival provides urgently needed resources. Cycle for Survival, the movement to beat rare cancers, raises money through its signature indoor team cycling events across the United States. 100 percent of every donation funds rare cancer research and clinical trials to improve lives worldwide. Together with the movement's founding partner, Equinox, Cycle for Survival has made a direct and meaningful impact for patient care and scientific discovery. Head to the Cycle for Survival website to learn more about the cause and donate.