Telemedicine visits are taking the stress and hassle out of seeing a healthcare practitioner. Here's how.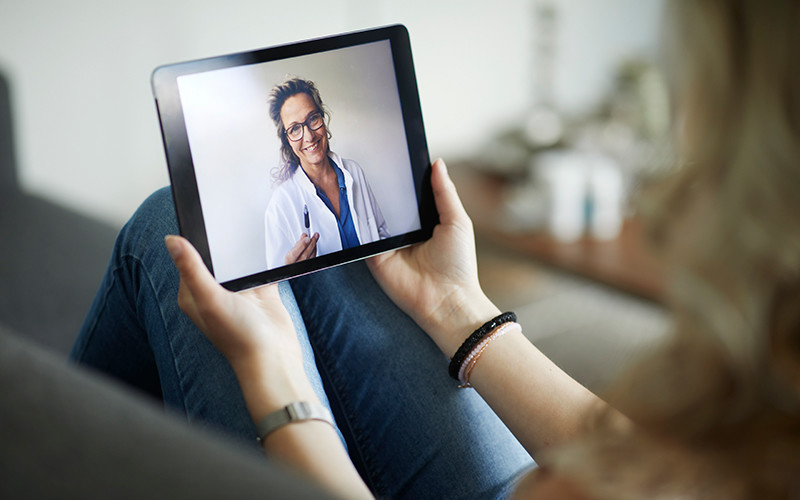 The past few months, going to a doctor's office became a daunting venture. As a result, virtual consultations, where doctors, physician assistants, and nurse practitioners could see patients, make a diagnosis, and prescribe medication became a way of life. While virtual visits started out of necessity, they're catching on out of comfort. Americans are realizing that technology-enabled healthcare makes life easier and doctor visits more convenient, accessible, and affordable.
The Doctor Will See You Now
Healthcare companies like Sesame—which connects doctors and patients—are proving that healthcare can actually be simple. They provide direct access to quality care doctors, in-person or online, whether or not patients have insurance.
Using Sesame's website, patients can schedule COVID-19 screenings and doctor's visits. Plus, patients can be seen virtually or in-person for anything from ear infections to dermatological issues, eye exams, physical therapy, dental care, mental health therapy, pain management and more.
The virtual visits are thorough and often give patients more face time with their physician than they would by going to an office. In addition, travel time and cost go out of the picture entirely. And for the times when an in-person visit is warranted, Sesame will also help patients find an in-person appointment with the same doctor.
Booking a visit is simple. Patients can log on to the Sesame website and select a doctor or healthcare clinician who is in the area. Unlike other services, you aren't just dropped into a long queue for the next available doctor. You can search for and select doctors based on particular characteristics and specialties—male or female, telephone, video or in-person visits, and length of visit. Plus, you can search by cost. Decisions are based on detailed information since every doctor's profile has a treasure trove of information—whether or not a doctor is seeing new patients, how long their visits last, the conditions he or she can treat, a detailed bio of the doctor, and how much their visits cost. Then, they even pull reviews so you know you're booking a quality doctor.
One of the best parts: There's no sticker shock. Sesame lists each doctor's cost right from its search page, and visits are paid for at the time of booking using a credit card, including those attached to health savings accounts (HSAs) or flexible spending accounts (FSAs). There's also no waiting around for insurance approvals or worrying about what a visit will cost in the long-run. Those who have insurance with out-of-network benefits, however, can submit their Sesame receipt for reimbursement, depending on their individual insurance plan and deductible. In many cases, the fee for a visit—video or in-person—is often less than an insurance co-pay.
Since it's done online, you don't have to hear a receptionist offer appointment times and days that simply don't work. In addition, insurance pre-approval for tests such as MRIs, X-rays, and diagnostic procedures are a thing of the past—just what the doctor ordered.
To learn more about Sesame, check out sesamecare.com.