SUN UNDONE®
Active Radiance® Serum
Active Radiance® Serum recharges skin's natural radiance and clarity with 50X the collagen-building, skin-brightening and cellprotecting power of ordinary topical Vitamin C. It's clinically proven to renew skin as it restores youthful texture and tone.
SEE THE DIFFERENCE IN ONE WEEK! Visit www.murad.com/health1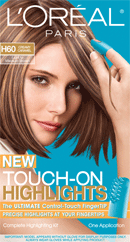 PRECISE HIGHLIGHTS NOW AT YOUR FINGERTIPS
L'Oréal Paris Touch-On Highlights™ is the
super simple at-home highlighting system that
introduces a completely new, innovative way
to apply highlights with the Control-Touch
FingerTIP tool. The fine-toothed applicator
provides an even, smooth application making it
remarkably easy to place and space highlights.