Chocolate Pecan Torte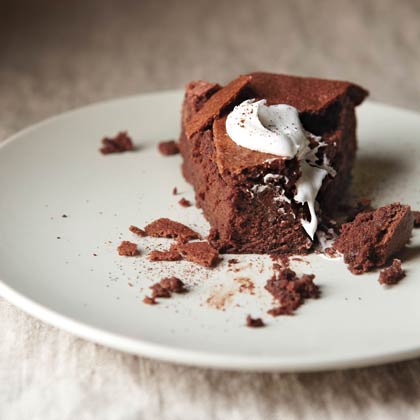 Photo: Hector Sanchez
Ingredients
1/4 cup

toasted pecans

3 tablespoons

all-purpose flour

3 ounces

70% bittersweet chocolate, finely chopped

1/2 cup

natural unsweetened cocoa powder

1 cup

granulated sugar

1/2 cup

boiling water

2

egg yolks

1 tablespoon

rum or bourbon

4

egg whites at room temperature

1/4 teaspoon

cream of tartar

2 teaspoons

powdered sugar

Classic Whipped Cream, optional
Preparation
1. Position rack in lower third of the oven and preheat to 375°F. Grease the bottom and sides of a 9-inch round springform pan and line with parchment.
2. Pulse pecans with flour in food processor until finely ground. Set aside. In large bowl, combine chopped chocolate, cocoa, and 3/4 cup sugar. Add boiling water. Whisk until chocolate is melted. Whisk in yolks and rum. Set aside.
3. Combine egg whites with cream of tartar in mixing bowl. Beat on medium until soft peaks form. Gradually sprinkle in rest of sugar; beat on high until stiff but not dry. Whisk flour and pecans into mixture. Fold about 1/4 of egg whites into chocolate mixture to lighten it. Fold in remaining egg whites. Scrape batter into prepared pan; level the top.
4. Bake 20-25 minutes or until toothpick comes out with a few moist crumbs clinging to it. Cool in pan, on a rack. The cake will sink in the center. Slide a small knife around inside of pan to detach cake. Invert cake; remove pan and paper liner. Turn right side up on platter, or leave cake on pan bottom and place on platter. To serve, sieve on powdered sugar; top with Classic Whipped Cream, if desired.
Print
Prep Time:

Cook Time:

Yield:

Makes 12 servings (serving size: 1 slice)
Nutritional Information
| | |
| --- | --- |
| Calories per serving: | 155 |
| Fat per serving: | 5.6g |
| Saturated fat per serving: | 2.1g |
| Monounsaturated fat per serving: | 2.1g |
| Polyunsaturated fat per serving: | 0.7g |
| Protein per serving: | 3g |
| Carbohydrates per serving: | 24g |
| Fiber per serving: | 2g |
| Cholesterol per serving: | 31mg |
| Iron per serving: | 1mg |
| Sodium per serving: | 21mg |
| Calcium per serving: | 12mg |
Good to Know
For the best flavor (and convenience!) make the torte a day ahead.
This Recipe Is
Adapted from Sinfully Easy Delicious Desserts