Roast Chicken Soft Tacos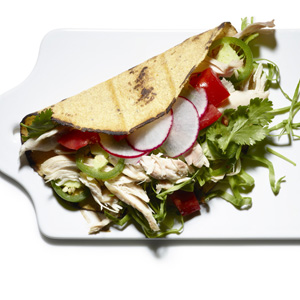 Prep Time:

12

Cook Time:

5

Yield:

Makes: 4 servings (serving size: 2 tacos)
Good to Know
Choose chicken instead of greasy ground beef in your tacos for a healthier Mexican fiesta.
Ingredients
2 ripe tomatoes, chopped
1/2 teaspoon kosher salt
3 cups shredded white meat and 1/2 cup sauce from Roast Chicken with Pan Sauce
4 radishes, thinly sliced
1 small jalapeño, thinly sliced
2 cups shredded cabbage
1 cup cilantro sprigs
2 limes, in wedges
8 corn tortillas
Hot sauce (optional)
Preparation
1. In bowl, sprinkle tomatoes with salt. Arrange chicken, radishes, jalapeño, cabbage, and cilantro on platter. Squeeze lime over vegetables.
2. Warm sauce in microwave; drizzle over chicken. Wrap tortillas in kitchen towel. Microwave 1 minute to heat.
3. Divide fillings among tortillas.
Nutrition Information
Calories per serving

313

Fat per serving

5.2

Saturated fat per serving

1.3

Monounsaturated fat per serving

1.7

Polyunsaturated fat per serving

1.5

Protein per serving

37

Carbohydrates per serving

29

Fiber per serving

5

Cholesterol per serving

89

Iron per serving

2

Sodium per serving

244

Calcium per serving

129