Whole-Wheat Pasta with Kale and Roast Chicken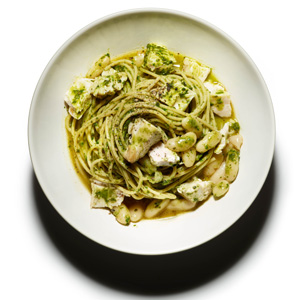 Prep Time:

12

Cook Time:

20

Yield:

Makes: 4 servings (serving size: 2 cups)
Good to Know
A quick Italian mean doesn't get much more nutritious than this! Whole-wheat pasta lend itself to extra fiber and good carbs, roasted chicken adds lean protein, and kale is one of the Superfoods of the moment.
Ingredients
8 ounces whole-wheat spaghetti
1 recipe Braised Kale, puréed
3 cups white meat and 1/2 cup sauce from Roast Chicken with Pan Sauce
1 (15-oz) can low-sodium chickpeas or white beans, drained and rinsed
1/2 teaspoon kosher salt
1/2 teaspoon black pepper
2 teaspoons ground coriander
Preparation
1. Cook pasta until al dente. Reserve 3 TBSP cooking liquid; drain.
2. In large skillet, heat rest of ingredients, stirring, until very hot.
3. Toss in the pasta and cooking liquid.
Nutrition Information
Calories per serving

515

Fat per serving

12.2

Saturated fat per serving

2.2

Monounsaturated fat per serving

6.4

Polyunsaturated fat per serving

2.1

Protein per serving

46

Carbohydrates per serving

59

Fiber per serving

12

Cholesterol per serving

89

Iron per serving

5

Sodium per serving

535

Calcium per serving

156