Orzo-Stuffed Peppers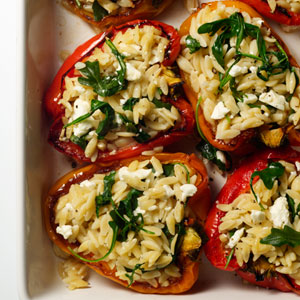 Prep Time:

10

Cook Time:

35

Total Time:

45

Yield:

Makes 4 servings (serving size: 2 pepper halves)
Good to Know
You can prepare these up to 12 hours before serving. Just cover baking dish with foil, refrigerate, and reheat at 400 degrees.
Ingredients
1 cup dry orzo
3 cups baby arugula
1/4 cup crumbled feta cheese
1 tablespoon olive oil
4 small bell peppers, halved and seeded
Preparation
1. Preheat oven to 400°. Cook orzo according to package directions in salted water; drain. Return to pot. Add arugula, feta, oil, and 1/4 teaspoon each salt and freshly ground black pepper; stir.
2. Season inside of peppers with 1/4 teaspoon each salt and pepper. Fill peppers; transfer to a 9- x 13-inch baking dish. Cover with foil; bake until peppers are tender (35-40 minutes).
Nutrition Information
Calories per serving

267

Fat per serving

7.4

Saturated fat per serving

2.8

Monounsaturated fat per serving

3.1

Polyunsaturated fat per serving

0.5

Protein per serving

10

Carbohydrates per serving

41

Fiber per serving

3

Cholesterol per serving

13

Iron per serving

2

Sodium per serving

477

Calcium per serving

109