Tartine with Blackberry Thyme Salad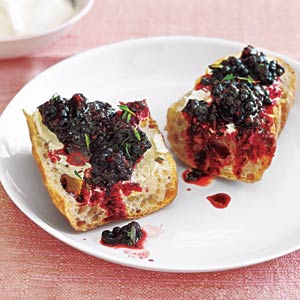 Celebrate berry season with delicious no-cook Tartine with Blackberry Thyme Salad breakfast sandwich. You can substitute blueberries if you can't find blackberries.

Yield:

Makes 4 servings (serving size: 1 tartine and 6 ounces plain low-fat yogurt)
Good to Know
Celebrate berry season with this delicious no-cook breakfast sandwich. You can substitute blueberries if you can't find blackberries.
Ingredients
1 quart fresh blackberries (crushed)
1 tablespoon fresh thyme leaves
2 teaspoons sugar
1 tablespoon lemon juice
Pinch of kosher salt
1 (8-ounce) sourdough baguette
2 tablespoons butter
24 ounces plain, low-fat yogurt
Preparation
Stir blackberries, thyme, sugar, lemon juice, and kosher salt together in a medium bowl. Split sourdough baguette lengthwise and cut into 4 pieces; spread each with 1/2 tablespoon butter and top with 1/4 of the blackberry salad. Serve with yogurt.
Nutrition Information
Calories per serving

393

Fat per serving

10.2

Saturated fat per serving

5.6

Monounsaturated fat per serving

2.5

Polyunsaturated fat per serving

1.1

Protein per serving

18

Carbohydrates per serving

60

Fiber per serving

9

Cholesterol per serving

25

Iron per serving

0.0

Sodium per serving

418

Calcium per serving

0.0