Power Gulp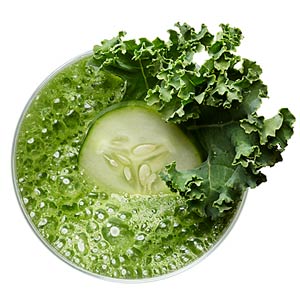 This green goodie sneaks in a dose of iron (you need extra during your period and pregnancy), key for healthy blood cell and muscle function. It also delivers more than your daily rec of vitamin K—another must for blood and bone health.

Yield:

Makes 2 cups (serving size: 1 cup)
Good to Know
This green goodie sneaks in a dose of iron, key for healthy blood-cell and muscle function. It also delivers more than your daily requirement of vitamin K—another must for blood and bone health.
Ingredients
1 cup sliced kale (from about 3 large leaves)
1 cup seedless green grapes (about 28)
1 English cucumber, thickly sliced
1 small Granny Smith apple (4–6 ounces), cored and cut into chunks
1/2 cup water
Preparation
In a blender, combine kale, grapes, cucumber, apple, and water; blend, scraping down sides occasionally, until smooth. Strain juice and, if desired, thin with additional water. Before serving, garnish with a fresh kale leaf and a cucumber slice (optional). Refrigerate up to 2 days (shake before serving).
Nutrition Information
Calories per serving

110

Fat per serving

0.6

Saturated fat per serving

0.1

Monounsaturated fat per serving

0.0

Polyunsaturated fat per serving

0.2

Protein per serving

3

Carbohydrates per serving

27

Fiber per serving

3

Cholesterol per serving

0.0

Iron per serving

1

Sodium per serving

19

Calcium per serving

77