Cheesy Cast-Iron Skillet Scrambled Eggs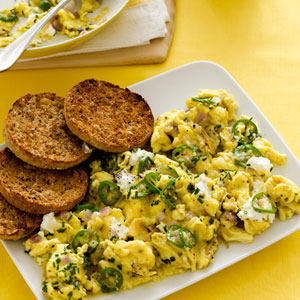 Prep Time:

5

Cook Time:

10

Total Time:

15

Yield:

Makes 6 servings (serving size: 1/2 cup eggs)
Good to Know
This recipe was created by Bobby Flay, the New York Times–bestselling author, chef and owner of six restaurants, and host of Brunch @ Bobby's on the Cooking Channel.
Ingredients
2 tablespoons unsalted butter
1 small red onion, finely diced
1 jalapeño, cut into thin rounds, seeds included
12 large eggs, lightly beaten
1/4 teaspoon salt
1/2 teaspoon freshly ground pepper
4 ounces goat cheese, crumbled
2 tablespoons finely chopped chives
Preparation
1. In a large cast-iron skillet, melt butter over medium heat. Add onion and jalapeño and cook until soft (5–7 minutes). Stir in eggs, salt, and pepper, and cook, stirring, until soft curds form (about 3 minutes).
2. Remove skillet from heat and mix in the goat cheese and chives. Serve immediately with whole-grain toast or English muffin, if desired.
Nutrition Information
Calories per serving

234

Fat per serving

17.4

Saturated fat per serving

8.3

Monounsaturated fat per serving

5.6

Polyunsaturated fat per serving

2.2

Protein per serving

16

Carbohydrates per serving

2

Fiber per serving

0.0

Cholesterol per serving

391

Iron per serving

2

Sodium per serving

310

Calcium per serving

88