Minted Gin Froths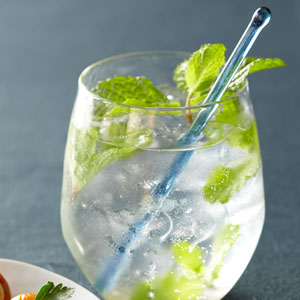 For a refreshing cocktail, look no further. Fresh mint, lime seltzer, gin and agave nectar are all the ingredients you need to create an amazing signature drink.

Yield:

Makes 1 serving
Good to Know
Enjoy this cocktail without guilt. Mixing gin with seltzer instead of tonic cuts around 100 calories. Mint sprigs as a garnish give it a cool, refreshing taste.
Ingredients
2 mint sprigs
1 ounce Hendrick's Gin
2 1/2 ounces lime seltzer, chilled
1 tablespoon agave nectar
Preparation
Crush mint sprigs with your fingers; place into an ice-filled rocks glass. Pour gin, chilled lime seltzer, and agave nectar, stirring well; serve immediately.
Nutrition Information
Calories per serving

125

Fat per serving

0.0

Saturated fat per serving

0.0

Monounsaturated fat per serving

0.0

Polyunsaturated fat per serving

0.0

Protein per serving

0.0

Carbohydrates per serving

16

Fiber per serving

0.0

Cholesterol per serving

0.0

Iron per serving

0.0

Sodium per serving

0.0

Calcium per serving

0.0