Merlot Strawberries with Whipped Cream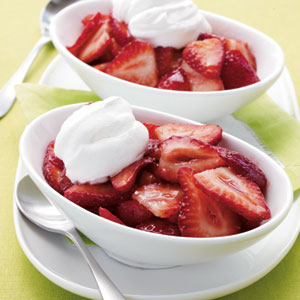 Prep Time:

5

Cook Time:

5

Yield:

4 servings
Good to Know
Don't worry about getting drunk: Boiling the sauce removes about 85 percent of the alcohol.
Ingredients
1/2 cup merlot
2 tablespoons fresh lemon juice
2 tablespoons honey
1/4 teaspoon vanilla extract
3 cups sliced strawberries
1 cup whipped cream
Preparation
1. Bring merlot, lemon juice, and honey to a boil in a saucepan over high heat.
2. Remove from heat; stir in vanilla. Drizzle over sliced berries.
3. Top with whipped cream.
Nutrition Information
Calories per serving

140

Fat per serving

3.5

Saturated fat per serving

2

Monounsaturated fat per serving

1

Polyunsaturated fat per serving

.5

Protein per serving

1

Carbohydrates per serving

22

Fiber per serving

3

Cholesterol per serving

10

Sodium per serving

20

Rs per serving

0