Cornflakes, Low-Fat Milk & Berries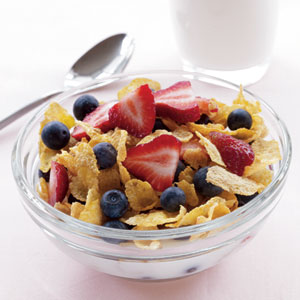 Prep Time:

5

Yield:

1 serving (2 1/2 cups)
Good to Know
It doesn't matter what types of berries you use for this recipe. All of them–strawberries, blueberries, raspberries, blackberries–are high in fiber, low in calories, and rich in antioxidants.
Ingredients
2 cups cornflakes
1 cup 1% low-fat milk
1 cup berries, fresh or frozen, thawed
Preparation
1. Place cornflakes in a small bowl. Top with milk and berries.
Nutrition Information
Calories per serving

370

Fat per serving

3

Saturated fat per serving

1.5

Monounsaturated fat per serving

1

Polyunsaturated fat per serving

0

Protein per serving

13

Carbohydrates per serving

78

Fiber per serving

6

Cholesterol per serving

10

Sodium per serving

640

Rs per serving

1.8