Fresh Corn Salsa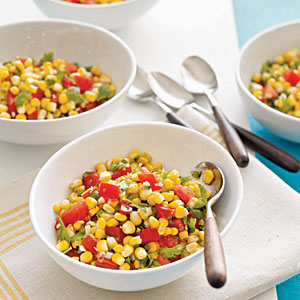 Prep Time:

10

Total Time:

15

Yield:

Makes 6 servings (Serving size: 1/3 cup salsa)
Good to Know
This low-calorie salsa goes great with any plain dish—grilled chicken, crab cakes—or regular tortilla chips.
Ingredients
1 cup cooked corn kernels (about 2 ears)
1 medium tomato, seeded and diced
1 jalapeño, finely chopped (include seeds for more heat)
2 tablespoons chopped fresh cilantro
2 tablespoons fresh lime juice
1 garlic clove, minced
1/2 teaspoon salt
Preparation
1. Combine all ingredients in a medium bowl, and mix together. Cover and let stand about 15 minutes to allow flavors to develop.
Nutrition Information
Calories per serving

29

Fat per serving

0.0

Saturated fat per serving

0.0

Monounsaturated fat per serving

0.0

Polyunsaturated fat per serving

0.0

Protein per serving

1

Carbohydrates per serving

7

Fiber per serving

1

Cholesterol per serving

0.0

Iron per serving

0.0

Sodium per serving

95

Calcium per serving

5