Apple-and-Gorgonzola Salad With Maple Dressing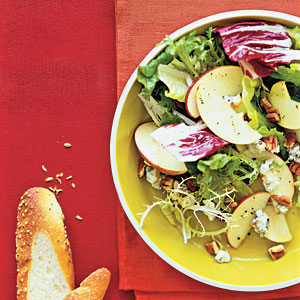 Prep Time:

10

Yield:

6 servings (serving size: about 1 1/3 cups)
Good to Know
Rich maple dressing makes this salad the perfect fall dish. Plus, one serving contains only 2 grams of saturated fat, compared to as much as 8.
Ingredients
1/4 cup maple syrup
2 tablespoons vegetable oil
2 tablespoons lime juice
1/4 teaspoon salt
1/4 teaspoon freshly ground black pepper
8 cups bagged prewashed European mixed salad greens
2 large sliced Red Delicious apples
1/4 cup crumbled Gorgonzola cheese
2 tablespoons chopped pecans
Preparation
1. Combine first 5 ingredients (through pepper), stirring well with a whisk.
2. Combine greens and apple in a large bowl. Drizzle with dressing; toss gently to coat. Sprinkle salad with Gorgonzola cheese and pecans.
Nutrition Information
Calories per serving

179

Fat per serving

9

Saturated fat per serving

2

Monounsaturated fat per serving

4

Polyunsaturated fat per serving

3

Protein per serving

4

Carbohydrates per serving

22

Fiber per serving

4

Cholesterol per serving

10

Iron per serving

1

Sodium per serving

162

Calcium per serving

107