WEEKLY NEWSLETTER
Free Pain Prevention Email Newsletter
Updates, news, special offers, and expert tips to stop aches and pains from interrupting your life.
Journey
Living With Osteoarthritis
---
SLIDESHOW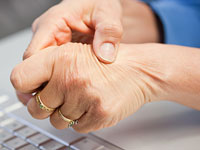 While it may not be obvious, weight loss and exercise can help people with arthritis. Here's how to get started.
View slideshow
---
Patients share their struggles and strategies

It is difficult for nonsufferers to imagine the degree to which a chronic and debilitating condition like arthritis can turn everyday activities into sources of embarrassment, shame, and even inadequacy. For people living with the challenge everyday, there is some comfort in hearing how others experience and cope with chronic pain.
Read More
---
Ways to stay intimate, stay active, and even relieve pain

"Young women, middle-aged women, older women—they develop arthritis and all of a sudden they see themselves as not sexually attractive," says James McKoy, MD, chief of the pain service division at Kaiser Permanente in Hawaii. Dr. McKoy explains how he helps his patients with arthritis reclaim their sex lives.
Read More
---
ONLINE RESOURCES
Site:

Arthritis Foundation

Who it's for:

Patients and advocates

Why we like it:

This site offers the latest in arthritis news and research, in addition to opportunities to become involved. Donate to the cause or find out about an awareness event near you. Take advantage of the "Questions & Answers" section, where you can email an arthritis expert.
---
Video: Perspectives on Arthritis
---