WEEKLY NEWSLETTER
Free Healthy Living Email Newsletter
Get the latest health, fitness, anti-aging, and nutrition news, plus special offers, insights and updates from Health.com!
Journey
Symptoms and Diagnosis
---
---
SLIDESHOW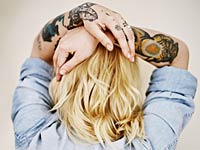 We asked experts 11 common questions about psoriasis, from how warm weather and exercise affects your skin, to whether it's safe to get a tattoo.
View slideshow
---
How to find a doctor who can really help

Psoriasis can be diagnosed by a clinical exam and a few questions from your primary care doctor or a dermatologist. But many people don't seek out the care they need. This is unfortunate, because treatments for psoriasis can be quite effective. Here's a guide to finding a doctor committed to helping you handle your psoriasis...
Read More
---
MY STORY
Liz had a hard time getting her doctor to take her seriously

A flesh-eating bacterium was the first diagnosis that Liz Salemme was given when her skin started breaking out in itchy, ugly red scales. It took her months of missed diagnoses and incorrect treatments before she finally saw a dermatologist who tackled her psoriasis. Her story is a lesson in listening to yourself...
Read More
---
SLIDESHOW

When cold weather ushers in dry, red, itchy skin, you probably feel like an unlucky contestant on a rash-guessing quiz show: Is it dry skin...or some exotic flesh-eating bacteria you heard about on the news?
View slideshow
---