WEEKLY NEWSLETTER
Free Healthy Living Email Newsletter
Get the latest health, fitness, anti-aging, and nutrition news, plus special offers, insights and updates from Health.com!
Journey
Pain Tests, Doctors, and Attitudes
---
FREQUENTLY ASKED QUESTIONS
Q:
Can a family doctor successfully treat chronic pain?
A:
The view of most primary care doctors is that they treat all pain as acute pain, no matter how long it goes on. Acute pain should be thought of as ending in 30 days, then it's subacute for 30 to 60 days, but after that it's chronic pain. The biology of chronic pain is not the biology of acute pain. If you fall and break your wrist, the bones will heal within four to six weeks, but pain may continue. You can't treat that like you would the acute fracture.
Read More
---
Making sense of your symptoms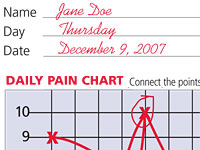 Your doctor needs detailed information to find the causes and triggers of your chronic pain and build an effective treatment plan. When she asks how you have been in the past month or two, you need to provide specifics. One technique pain doctors strongly recommend is writing a record of your pain experience. Learn how to keep a pain diary so that you can get the relief you need.
Read More
---
Help them understand your pain so you get the treatment you need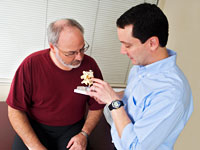 It can be surprisingly difficult to describe how pain feels. Each of us experiences our pain differently, making it highly subjective—and that makes it a challenge for a doctor to evaluate. Many doctors use a 0-to-10 pain scale. A 0 rating means you have nothing to discuss, 10 is off-the-charts, I-can't-stand-it agony. This can be a good starting point. But it has its limitations. One person's 8 can be another person's 4.
Read More
---
FREQUENTLY ASKED QUESTIONS
Q:
If I don't have insurance through an employer or spouse, what kind should I look for?
A:
Number one, look for a high-risk pool—insurance that is designed for people with chronic illnesses. Find out if your state has one by calling your state insurance department. Some have good coverage and are reasonably priced, some have lousy coverage and are incredibly expensive. Ask a lot of questions and look into it carefully to make sure it's going to meet your needs.
Read More
---
Video: Perspectives on Chronic Pain
---