WEEKLY NEWSLETTER
Free Healthy Living Email Newsletter
Get the latest health, fitness, anti-aging, and nutrition news, plus special offers, insights and updates from Health.com!
---
SLIDESHOW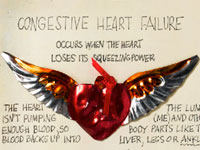 In 2008, after recovering from breast cancer, New York artist Victoria Behm contracted what seemed to be a bad flu. But symptoms persisted beyond the usual time. She eventually found herself in an ER, gasping for breath. Then she was diagnosed with a disease she had barely heard of.
View slideshow
---
You don't really notice it until it goes off—then you get the shock of your life

Shannon Schroeder, 37, of Poulsbo, Wash., has a defibrillator monitoring her heartbeat and waiting for a chance to shock her back to life. Though she rarely notices it's there, a few years ago, the defibrillator fired accidentally while Schroeder was taking her daughter to preschool and carrying her one-year-old...
Read More
---
MY STORY
What she goes through when her heart races to 180 beats per minute

I'm 5'3" and 100 pounds. I don't look like I have a heart problem. It's rare for someone like me to have this type of condition. When I go to my doctor's clinic, the heart patients are much older and usually much heavier. I'm one of the youngest people in the room. I get strange looks and comments as if I do not belong there...
Read More
---
How a patient benefits from the implant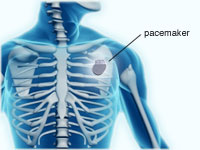 Years ago, Odessa Rogers decided to start checking her heart rate at home to monitor her health as she aged. It normally hovered around 80 beats a minute. But on a spring morning in 1999, as she was heading out to a Bible study class, the rate dipped below 40...
Read More
---
They can be effective, but watch out for the side effects

Treating an arrhythmia with medication is like putting out a campfire with a squirt gun. Drugs can control abnormal heartbeats and the fainting, light-headedness, and breathlessness that can go along with them, but they merely dent the problem...
Read More
---