WEEKLY NEWSLETTER
Free Healthy Living Email Newsletter
Get the latest health, fitness, anti-aging, and nutrition news, plus special offers, insights and updates from Health.com!
---
It's the gold standard of cardiac testing, but where and when you get it matters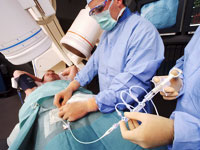 You might receive an angiogram if you have symptoms that worry your doctor—such as chest pain or a heart attack. "The majority of times patients will come in with pain, we do a stress test, and then we go to the angiogram, which is still the gold standard for testing," says Leslie Cho, MD...
Read More
---
Surprise! Your total number matters a lot less than the ratios. Here's how doctors look at it

"My cholesterol tested high and the doctors told me to lose weight, but it just went over my head," says Mark Miller, 62, a teacher and football coach from Linden, Calif. Miller weighed 380 pounds five years ago, when he suffered two heart attacks just three days apart...
Read More
---
What they can (and can't) reveal

Whether they're trying to diagnose a problem or measure your progress, doctors have many ways to examine your heart. Tests may be as simple as a stethoscope exam to listen for an irregular heart rate, or as sophisticated as a three-dimensional computerized scan to get a clear image of your heart...
Read More
---
They're painless and effective, and they reveal how much exercise you can safely handle

Your doctor can't tell how well your heart is working until it's put to the test. If you have heart disease—or if you're at risk—your doctor may want to examine your heart during exercise. The stress test can spot hidden problems with your heart and help determine how much exercise you can safely handle...
Read More
---
Video: Perspectives on Heart Tests
---