WEEKLY NEWSLETTER
Free Healthy Living Email Newsletter
Get the latest health, fitness, anti-aging, and nutrition news, plus special offers, insights and updates from Health.com!
Journey
Monitoring Your Blood Sugar
---
SLIDESHOW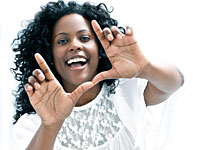 You need to prick your finger to test your blood sugar at home. Here are 7 ways to make it less painful.
View slideshow
---
FREQUENTLY ASKED QUESTIONS
Q:
Can products like skin cream affect my reading?
A:
Yes, they certainly can. Lotions, creams, and other substances on your hands can cause your meter to give an inaccurate reading. Even handling a sandwich can leave glucose on your fingertips, which would provide an abnormally high reading when you draw blood from your finger.
Read More
---
You can pick one that's faster, requires less blood, or records more data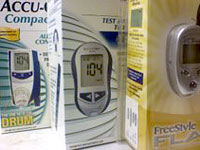 Blood glucose monitors are devices—about the size of a cell phone or smaller—that are used to monitor your blood sugar at home...
Read More
---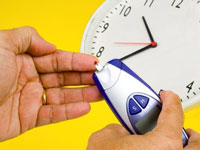 You should test your blood sugar at home, but how often is enough? Well, it depends—mostly on your medication, you, and your doctor...
Read More
---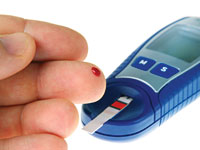 Blood sugar is a tricky little beast. Yes, you can get a high reading if you threw caution to the wind and ate several slices of cake at a wedding. The problem is that you can also have a high blood sugar reading if you followed every rule in the type 2 diabetes handbook...
Read More
---
ONLINE RESOURCES
Site:

Blood Sugar 101

Who it's for:

People looking for detailed information on blood sugar

Why we like it:

Janet Ruhl, who has type 2 diabetes, answers basic questions about blood sugar and offers useful tips on getting blood sugar levels under control.
---
Video: Perspectives on Monitoring Your Blood Sugar
---