WEEKLY NEWSLETTER
Free Health for Women Email Newsletter
Stay fit, feel younger, and get special offers and insider health news—from beauty to breast cancer—just for women.
---
SLIDESHOW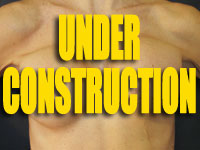 After her diagnosis with breast cancer, artist Jo Beth Ravitz, 58, had lumpectomies, a double mastectomy, and breast reconstruction in short order. During the various surgeries to prepare her body for implants, she couldn't move her arms enough to work on her art. She documented her journey with a diary, excerpted here, and her husband took pictures.
View slideshow
---
Yellow-based concealer, a smudge of eyeliner on your lash line...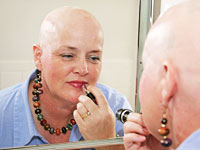 Ramy Gafni, a makeup artist, creator of the DVD,
The Ultimate Guide to Looking and Feeling Great While Living With Cancer
(Shami Production, 2006), and a cancer survivor himself, offers these tips for women under treatment for breast cancer who have side effects such as sallow skin or dark under-eye circles...
Read More
---
Sex might not be quite the same for a while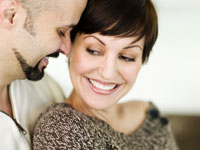 You might be one of the lucky few whose sex life cruises through breast cancer diagnosis and treatment without so much as a bounce. More likely, there are bumps in the road or you may have stalled out altogether...
Read More
---
A host of issues can crop up from radiation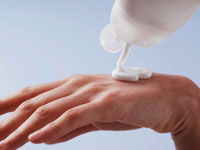 Breast cancer treatment can give rise to a variety of skin problems, including itching, peeling, and infections. You can't always prevent them, but there are ways to tackle these conditions as they crop up.
Read More
---
Tips for finding—and affording—the perfect one

Finding the right wig can be tough, especially if you're trying to replicate your natural look. Andrea Cooper, 52, of Phoenix, Md., wore her new wig to pick up her kids at school, and they didn't recognize her. "They walked right past me," Cooper recalls.
Read More
---
A little TLC goes a long way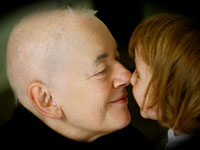 If you've treated your breast cancer with chemotherapy and lost your hair in the process, you can expect a soft fuzz to begin growing on your scalp two to three weeks after you stop treatment. The extent of hair loss depends on the type of chemo, as well as the dose, but you can generally expect to regrow an inch of hair about two months after you stop treatment, followed by a full head of hair within six months to a year.
Read More
---
Only about 16% of women having mastectomies choose reconstruction

If you've had a mastectomy, your medical profile may make you a candidate for reconstructive surgery. There are several kinds, but the main choice is whether you want to live with the way your body looks and feels with just one breast or none at all or have doctors construct something artificial...
Read More
---
Video: Perspectives on Body Image
---