WEEKLY NEWSLETTER
Free Health for Women Email Newsletter
Stay fit, feel younger, and get special offers and insider health news—from beauty to breast cancer—just for women.
Journey
Surgery and Radiation
---
FREQUENTLY ASKED QUESTIONS
Q:
What is breast-cancer-related lymphedema?
A:
Breast-cancer-related lymphedema is a chronic, debilitating disorder following surgery, chemotherapy, or radiation therapy that causes arm swelling and chronic inflammation. Lymphedema can have devastating consequences for breast cancer survivors, including infection, loss of strength, and limitation of movement, as well as body-image and self-esteem issues and anxiety. The swelling, which can happen after lymph node removal, is caused by lymph, the colorless liquid that normally circulates in the body.
Read More
---

Lesa Sverid, 44, of Plymouth, Mass., had two lumpectomies, a sentinel node biopsy, and a mastectomy—all in the same year. She's more than ready to move on, but says neither the pain nor the inconveniences have been as bad as she feared.
Read More
---
Twilah learned when to be firm and when to roll with the punches

For Twilah Richardson, 51, there was never any question that she would take the lead on her breast cancer treatment all the way through. "I can't imagine how one could survive this experience intact without taking control to the fullest extent possible," she says. As it turned out, however, being in charge sometimes meant learning to give in to the unpredictability of the disease.
Read More
---
You may need to have your lymph nodes biopsied or removed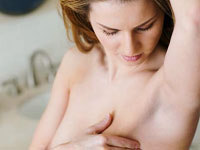 Lymph nodes are small glands that act as a filtering system for the body; the nodes in your armpit can become a magnet for breast cancer on the move. "What I tell patients is that there are two parts to breast cancer surgery: the first part is the operation on the breast itself, whether the lumpectomy or mastectomy, and the second part has to do with the lymph nodes..."
Read More
---
Ask lots of questions and look at lots of pictures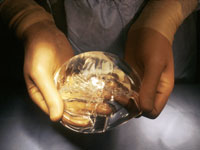 If you want to have reconstructive breast surgery after your mastectomy (and the procedure is appropriate given your health profile), you'll either get an implant or so-called autologous reconstruction, using your own tissue. The main things to consider when choosing between the two are your comfort, your appearance, and how quickly you want this over with...
Read More
---
Twilah wanted reconstruction right away; Georgette wasn't ready to decide

Many women who've had a mastectomy will also have breast reconstruction, whether immediately (your breast surgeon literally hands you off to your plastic surgeon in the operating room) or at some point later on, maybe after you've finished radiation treatment.
Read More
---
Video: Perspectives on Surgery and Radiation
---