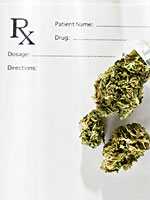 Getty Images
Steve is a horticulturist of sorts. He raises orchids, Japanese maples, and other plants at his southern Rhode Island home. Tending the plants helps ease his
rheumatoid arthritis (RA)
pain, he says. But the garden offers more than Zen; he grows one plant—marijuana—specifically to relieve RA pain and discomfort.
"If my pain is at a 10, it will take it down to a 6 or 6.5," he says. "Im an old-man weight lifter. After I smoke I am able to work my shoulders and arms to keep my joints healthy. It gives me the desire and ability to get through a workout."
Steve has had permission to grow marijuana for medicinal purposes since 2006. He smokes it and cooks it in butter (for baking) and makes THC-containing solutions called tinctures (which can be added to foods and drinks) for himself and five other patients with various medical conditions. His home state is 1 of 16, along with the District of Columbia,
where marijuana is permitted for medicinal use
.
Cannabis may be useful for people with RA and other
chronic pain
conditions because it can alleviate pain, reduce inflammation, and promote sleep. But unlike other pain-causing conditions, such as osteoarthritis, RA is associated with a higher risk of lung problems and heart attacks. (RA is an autoimmune condition that attacks the joints and causes multiple health problems.)
Its not clear if smoking marijuana is a relatively safe pain reliever for people with RA, or if it could increase the risk of RA-associated conditions. And if cannabis is safe, its still debatable whether its safer to take it as a pill or mouth spray rather than smoking it. Smoking marijuana raises the heart rate and one study found that heart-attack risk rises fivefold in the hour after lighting up, according to the National Institute on Drug Abuse.
Medical marijuana remains controversial—and thus under studied—in part because it is the most commonly abused illicit drug in the U.S.