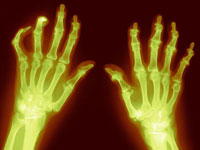 (GETTY IMAGES)
Chances are, you probably know someone who's had a knee or hip replacement. Each year, more than 750,000 Americans undergo one of those procedures. But how about a knuckle replacement?
Yes, it's possible to have the tiny joints in your fingers replaced with prostheses to ease the pain and suffering associated with arthritis. And although this type of surgery (known as arthroplasty) is still being perfected and is far less common for knuckles than for knees or hips, it can provide rapid relief to people whose hands are ailing.
"Patients are happy right off the bat," says Arnold-Peter Weiss, MD, a hand surgeon, professor of orthopedics, and associate dean of medicine at Brown University Medical School, in Providence, R.I. "It even surprises me."
The procedure is quick and relatively straightforward, but it's not appropriate for everybody and does carry a risk of complications and failure. Moreover, some experts argue that knuckle replacements have not been studied thoroughly enough to justify their widespread use in arthritis patients. Still, it's a viable option for people in severe pain.
Is knuckle replacement right for you?
Knuckle replacements have been around since the 1950s. In general, the surgery is used only in people with severe pain or lack of mobility. That typically means arthritis patients whose pain interferes with daily activities and people whose pain isn't alleviated by nonsurgical treatments like finger braces, splints, or anti-inflammatory medications such as Advil or Aleve.
Historically, knuckle replacement was most common in patients with
rheumatoid arthritis
(which can cause hand deformities), although the procedure is pretty evenly split now between RA and
osteoarthritis patients
, says Jay Bridgeman, MD, assistant professor of hand and microvascular surgery at the Penn State College of Medicine. Improvements in rheumatoid arthritis
medications
over the years have reduced the number of surgeries that are necessary, he explains.
The purpose of the surgery is to remove the damaged cartilage, tissue, and bone, and insert an artificial replacement joint in the remaining healthy bone. Although the new joint doesn't entirely restore mobility, it can almost completely eliminate pain and return the hands to their normal shape.
Dr. Weiss, who practices at Rhode Island Hospital, says he performs anywhere from one to three knuckle-replacement surgeries each month, usually on the knuckles at the base of the fingers (known as the metacarpophalangeal joints). Osteoarthritis patients typically get one or two of these joints done at once, while rheumatoid arthritis patients often have all four of them "go bad" at the same time, he says.