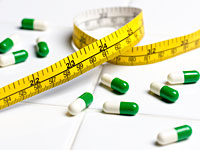 Getty Images
Katie's temper tantrums and emotional outbursts became uncontrollable when she was 5 years old. After diagnosing her with
Asperger's syndrome
and
attention deficit hyperactivity disorder
(ADHD), doctors placed her on risperidone, an antipsychotic drug used to treat irritability and aggression in autistic children.
The medication "took the edge off," according to her mother, Janet, but it also made Katie ravenously hungry—a side effect that Janet says she was never warned about. "It was like she had a constant, insatiable hunger and was almost gorging her food," she recalls. "Like when you haven't been able to eat, are starving, and forget your manners."
In less than a month, the slim, 40-pound kindergartner gained 5.5 pounds—about 14% of her body weight. (That's comparable to a 120-pound woman gaining 17 pounds.) Within a year Katie weighed 60 pounds.
Risperidone (sold under the brand name Risperdal) belongs to a class of drugs, known as atypical antipsychotics, that also includes Seroquel, Zyprexa, Abilify, and Geodon, among others. When they first appeared on the market in the 1990s, these drugs—sometimes called "second-generation" antipsychotics, to distinguish them from older antipsychotics such as thorazine—were used primarily to treat
bipolar disorder
and
schizophrenia
.
That was just a start. In recent years, the Food and Drug Administration (FDA) has approved several of the drugs as an add-on medication for depression and autism, and research shows that doctors commonly prescribe them "off-label" (i.e., without the FDA's official blessing) for a wide range of conditions, including
anxiety
, ADHD,
post-traumatic stress disorder
(PTSD), and even
insomnia
.
The use of atypical antipsychotics has soared as a result, and they are now the best-selling class of prescription drugs in the U.S. Roughly 5.5 million people in the U.S. received a prescription for an atypical antipsychotic in 2008, an increase of more than 20% from 2004. The increase has been especially dramatic among children, adolescents, and older people.
As the number of prescriptions has risen, so too have concerns about the dramatic weight gain that occurs in as many as 30% of patients who take atypical antipsychotics. In some cases, the drugs also appear to contribute to elevated blood-sugar levels, high blood pressure, and other risk factors for
heart disease
and
diabetes
. (Whether the drugs do in fact cause dangerous metabolic changes, including diabetes, is currently being debated in class-action lawsuits involving thousands of patients and several law firms around the U.S.)
Patients such as Katie (or their parents) may find themselves in a dilemma: The drug that keeps their debilitating mental illness at bay might cause their weight to balloon, potentially leading to emotional distress and serious medical problems that have little to do with their original diagnosis.
It's not entirely clear how widespread or serious antipsychotic-related weight gain is. But it's common enough—and potentially damaging enough—that it's an important factor to consider when deciding whether to take these drugs.