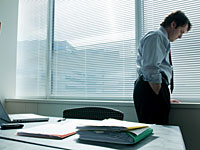 Getty Images
Greg Couser, MD, is the medical director of the employee assistance program at the Mayo Clinic in Rochester, Minn. He also holds a handful of other titles, including two that begin with director or assistant director. Needless to say, his job is demanding, but he typically doesn't get too stressed out. Why?
Because he has a lot of control over the demands that are placed upon him and "an understanding employer" that gives him the time he needs do his job well. Not everyone is so lucky.
Most people in today's economy are happy just to have a job—any job. But work-related factors like long hours, a poor relationship with your boss, and lack of control over daily tasks—factors that can get worse when the boss is pinching pennies—can contribute to depression as well.
Clearly having a job is better than not having one when you really need it. Those who are unemployed tend to have higher rates of depression (almost 13%) than those who are employed full time (7%).
How Self-Stigma Hurts People With Depression

Experts say self-stigma can impede a depressed or mentally ill persons ability to recover.
Read more
But research suggests that some jobs can be more depression-prone than others for a variety of reasons, and certain work-related factors are known to be particularly bad for those already struggling with depression.
High-risk occupations?
"A job can be a source of meaning and social support, which can provide a buffer against depression for some people," says Eugene Baker, PhD, vice president of employee assistance programs for OptumHealth Behavioral Solutions. "It's a place to go every day and have people to interact with. But if you are unhappy with your job, and it is chronic unhappiness, and you feel powerless to change your situation, these feelings of helplessness can foster depression."
Factors contributing to depression range from genetics, gender, temperament, and lack of social support. And each year, more than 18 million American adults will experience some form of depression.
Certain occupations seem to have a higher risk of depression than others. The highest rates of worker depression (up to 11%) are seen in people with jobs in nursing home/child care, food service, social work, and health care, among others.