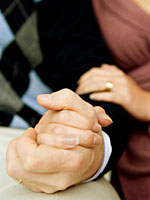 Getty Images
Mollys depression had been under control for 10 years. But when she gave birth, she stopped taking
antidepressants
so she could breastfeed.
The first week was "bliss," says Molly, now 28. (She asked that her last name not be used.) The second week was a different story. "The symptoms started and got progressively worse, to the point that I was just crying all day every day," she says. "[I] didnt want to go anywhere or see anyone—including my own family."
 Although her husband has never had a problem with depression, her mood affected him too. "He is a fixer and hates it when there is a problem he cant fix," she says. "He was definitely down."
"Someones hopelessness and despair can profoundly affect the world of families and partners," says Dana C. Jack, a professor of psychology at Western Washington University, in Bellingham, and the author of
Silencing the Self: Women and Depression
.
You cant "catch" depression like the common cold, of course, and spending time with someone whos struggling with mental illness wont necessarily be a downer for everyone. Some people are more susceptible to depression than others, and your risk depends on a complex mix of factors ranging from life circumstances to genes.
That said, depression can be just as infectious as happiness. Understanding how depression spreads can help you protect yourself against the symptoms and ultimately help you help your loved one overcome depression.
When your partner is depressed
Depression can be especially daunting if it affects your life partner or spouse since you spend so much time together and are so emotionally invested in their well-being.
Anne Sheffield, author of
Depression Fallout: The Impact of Depression on Couples and What You Can Do to Preserve the Bond
, says the stereotype of the depressed person—"a sad person sitting quietly in a corner"—is often far from the truth.
In fact, she says, depressed people "are often hyper-critical and belittling, demanding, quarrelsome and contrary, fault-finding, changeable, illogical, unreasonable, resentful, sometimes inexplicably angry, aloof, and unaffectionate." Because these behaviors often go undiagnosed as depressive symptoms for long periods of time, they can cause lasting damage to previously solid relationships, says Sheffield, who has long struggled with depression herself.