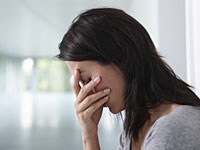 Getty Images
People who suffer from mental illness, including
depression
,
bipolar disorder
, and
schizophrenia
, face a litany of challenges: dark moods, an inability to enjoy lifes pleasures, powerful prescription medication, isolation, and social stigma. Making things worse, many also experience the pain of
self-stigma
, an under-reported condition in which the patient internalizes social myths and prejudices about mental illness. Experts say self-stigma can impede a depressed or mentally ill persons ability to recover.
10 Things to Say (and 10 Not to Say) to Someone With Depression

What do you say to someone whos depressed? All too often, its the wrong thing. Here is a list of helpful things to tell someone battling depression, and even more importantly, what not to say.
Read more
Self-stigma is a burden that is prevalent among people with mental illness, says Robert Lundin, a Chicago-area mental-health worker and writer who began having delusions in his 20s and was later diagnosed with schizoaffective disorder, a combination of schizophrenia, mania, and depression. "The diagnosis [and subsequent hospitalization and treatment] left me with a very difficult feeling of failure," he recalls. "Your life does not go well at all when you get these illnesses." But, he adds, "there would be no stigma if I had diabetes or heart failure." Lundin is, in fact, a colon cancer survivor, and has no feelings of stigma associated with having had cancer.
How Self-Stigma Works
Self-stigma occurs when patients agree with and internalize social stereotypes. It tends to affect them in three ways, says Amy Watson, PhD, assistant professor of the Jane Adams College of Social Work, University of Illinois at Chicago:
•Patients often think that their illness is a sign of character weakness or incompetence.
•Patients develop feelings of low self-esteem and become less willing to seek or adhere to treatment.
• Patients anticipate that they will be discriminated against, and to protect themselves they limit their social interactions and fail to pursue work and housing opportunities.