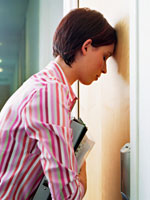 Getty Images
By all appearances Sandy was successful and content. At 30 years old, she was in a senior position at a major media company in Boston—and she was a happily married new mom to boot.
But her life was less charmed than it seemed. Sandy (not her real name) had become seriously depressed after the birth of her child. And although she got some relief from
antidepressants
, the drugs would falter every so often, plunging her into a deep, dark mood.
"It was hard to get up and go to work," she says. In fact, there were times when Sandy simply couldn't drag herself into the office and called in sick. She
was
sick—but she didn't tell her employers with what.
Sandy was afraid that if her colleagues knew about her
depression
, they would start to view her typical behavior—being outspoken in meetings, say—as a symptom of her illness. "It's almost like people thinking you have PMS or something, and discounting what you're saying," she says.
It's a valid concern. The stigma surrounding depression is not what it was a generation ago (thanks to greater public awareness and the mainstreaming of antidepressants), but it remains strong enough that most depressed employees would probably hesitate to reveal their condition to bosses and coworkers for fear of being marginalized professionally or being seen as weak. Some workers may even worry about jeopardizing their jobs—especially in the current economic climate.
"I think we've come a long way in terms of identifying that depression is an important issue in the workplace," says Michelle Riba, MD, a professor of psychiatry at the University of Michigan, in Ann Arbor. "But for the individual who's working in an office or another situation, one really needs to think about why any medical condition would be discussed. Not that there's anything wrong with disclosing, but one has to be really clear about what one hopes to gain."
The Americans with Disabilities Act prevents employers with 15 or more employees from discriminating against people with serious health problems (
including depression
), and it requires them to accommodate disabled employees. In order to be protected by the law, however, employees must disclose the nature of their disability to their employers.
The decision whether to inform your employer and colleagues about your depression (or another mental illness) should not be taken lightly. As Dr. Riba suggests, you should have a compelling reason for doing so and should know in advance what you need from your employer to do your job effectively. And you'll need to come to grips with the lingering stigma of mental illness.
Sandy's doctor told her that depression is a medical condition just like
diabetes
—and she agrees, to a point. "If I had diabetes I would probably tell my company," she says. "But I've never told them this."