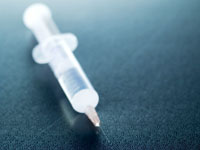 Getty Images
Nancy Daley has lived with the pain and embarrassment of psoriasis for nearly 40 years. Like many patients with a severe case, she has tried just about every kind of treatment:
topical creams
,
systemic medications
, coal tar products, even
tanning beds
. "That worked wonderful, except that after six or seven months my neck looked like a piece of leather," says Daley, 56.
She finally found some relief with Enbrel, an injectable
biologic medication
, but in 2003, after a year on the drug, it stopped working (as biologics sometimes do). Her doctor switched her to another then-new biologic, Humira, which all but cured her plaques and pains. "It was the only thing that helped me," she says.
Then, two years ago, Daley moved from Minnesota to Nevada. She has switched jobs—and insurance carriers—twice since then, and in the process her Humira co-pay has skyrocketed from $7.75 to $316 per month, an outlay she can no longer afford. Even as a state employee with health insurance—shes now a licensed nurse at a state prison—Daley has effectively been priced out of the only medication that works for her.
Shes not alone. Between 2000 and 2008, the average wholesale price of five popular psoriasis drugs increased at a rate nearly five times that of inflation, according to a study published earlier this year in the Archives of Dermatology. During that period, the price of a dose of Enbrel increased by nearly 50%, to about $208; a dose of Humira increased to $831. (Although its a useful indicator for pricing trends, a drugs wholesale price is often higher than the eventual sales price, the study notes.)
"Insurance costs are going up higher than inflation as well," says one of the studys authors, Stephen E. Wolverton, MD, a professor of clinical dermatology at the Indiana University School of Medicine, in Indianapolis. "Most of us say this rate of increase of insurance and drug costs just cant be sustained. To the great majority of the country, $500 a month [for a biologic] is a great big chunk of change."
In recent years, rising drug costs and insurance difficulties have combined to make
biologics
and other psoriasis treatments too expensive for a growing number of people. Since 2006, the National Psoriasis Foundation, the leading advocacy organization for psoriasis patients, has seen almost a four-fold increase in the number of people seeking help paying for psoriasis medication.
If you find yourself in a similar predicament, resources are available that can help make psoriasis drugs more affordable. The manufacturers of biologics and other high-priced psoriasis drugs offer assistance programs that help patients cover the cost of treatment.