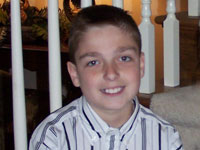 When my son, Spencer, was 8 and 9 years old, we used to go to the doctor all the time. He just didnt walk or act like other boys his age. He was hunched over like an old man, and when lying on the ground, he couldnt get up unless he rolled over onto his stomach, got on all fours, and pushed himself up with his hands. He always complained about feeling sore and stiff.
His joint pain was so bad that he had to pull himself up the stairs by the handrail because his ankles and knees were so sore. He just didnt have the strength to get up the stairs.
Finally, he was diagnosed with Crohns disease in July 2009 at age 11, even though we felt like his symptoms started around age 7.
A fistula was the first sign
When Spencer was in first grade, he had a perianal fistula, a lesion on his bottom that was so painful he had to sit on a pillow at school. He had another at age 8. Even though the doctors said they were unusual, they didnt attribute them to Crohns.
After he turned 10, Spencer started having bathroom issues. He would get constipated and then immediately have to go to the bathroom if we went out and ate a meal. Soon he started saying that every time he ate, he felt like he was going to throw up. He almost stopped eating and lost a lot of weight.
By January 2009, we were taking him to the doctor all the time and they kept conducting tests. I mentioned Crohns disease to the doctor, but she said Spencer was way too young and that he didnt have it. Eventually they just told us he was impacted and to give him a laxative.
For a while he was fine, and then he would be sick again. Around that time, he googled the words "colon cancer" and came downstairs and said, "I think this is what I have." I told him he didnt have colon cancer but we were going to find out what was wrong.
We went to a pediatric gastroenterologist who did a colonoscopy, and she said Crohns was likely. She did some more tests and confirmed the diagnosis—he had the disease in several places in his large intestine.
I was worried because when he woke up from his colonoscopy, I would have to tell him that he had Crohns disease. But when I told him, he said, "I know what it is; I saw it on [Discovery Healths]
Mystery Diagnosis
," and he was fine.
Of course, he broke down when we got home, but he was relieved because he finally knew what was going on.
He began taking prednisone and ended up on four different medicines at one time.
Then they did another colonoscopy and said it was looking better, but he was not in remission yet. He was still going to the bathroom five to six times a day or more. When he still wasnt in remission around Christmas, they said he needed more drugs, so he started taking Remicade. Hes almost weaned off prednisone now and is doing a lot better.