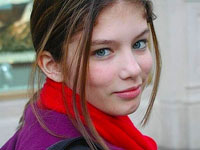 As a child, I had stomachaches that were so bad I couldnt move. I spent months in pain while doctors tried to figure out what was wrong. First they told me I had the stomach flu and then
lactose intolerance
. My brother grew up with
epilepsy
, so my parents knew what it was like to have a sick child, but I was supposed to be the healthy one. Now I was lying down all the time, screaming in pain, and no one could figure out the reason why.
I spent a long time watching my diet—certain foods would really bother me—and trying different medications. Finally, a pediatric gastroenterologist performed a
colonoscopy
, which confirmed that I had
Crohns disease
. I was 11 years old.
Afterward, I took medication and continued to watch what I ate, but I still couldnt gain weight, no matter what I did. In middle school I started to get much worse, probably due to stress; at the time, my brother was undergoing brain surgery. I couldnt eat much and I would sleep all the time.
A perforated colon
Then in my freshman year of high school, on April 25, 2005, I woke up in the morning screaming in pain. Somehow I managed to get myself under control, and my mother called a gastroenterologist. Every bump in the road on the way to the doctors office made me scream.
When I got there, the doctor pushed on my stomach and I almost fell off the table because of the unbearable pain. It turned out I had a perforated colon and needed emergency surgery.
They told me I had a gallon of waste floating in my body, and it was poisoning my internal organs. I had to get a temporary colostomy because my intestine was so diseased it was the only way to save my life since I was so near death. The doctors knew at that point that I did not have a mild case of Crohns disease.
I got back to school weeks later, when there was only a month left of my freshman year. Because of the
corticosteroids
and water retention, I looked completely different—even my friends didnt recognize me. The same kids who had called me an anorexic when I was underweight now called me "chipmunk cheeks."
I realized then that I had worked so hard to get back to normal, but that Crohns had a major effect on what my "normal" would be.
My weight changes made things difficult in other ways. My mom had to keep buying me new clothes and get the old ones tailored as my weight fluctuated. At one point, the cleaner asked my mother how many daughters she had because we had so many clothes altered.