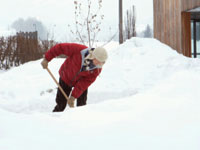 Getty Images
Snow and ice can make driving treacherous, of course, but snowfall—especially the wet, heavy kind—can be dangerous even if you never leave your driveway. Each year, shoveling piles of snow after a storm is believed to cause tens of thousands of back and shoulder injuries in the United States, not to mention several hundred heart attacks.
Overall, more than 70,000 people ended up with a shoveling-related injury bad enough to trigger a doctors visit in 2008, according to the Consumer Products Safety Commission. A quarter of those people visited an emergency room, and about 900 were admitted to a hospital.
The exertion, cold weather, and slippery surfaces snow shovelers face are a dangerous combination, especially if its an activity youre not used to. Snow shoveling "is one of the most high-intensity exercises you can do," says Suzanne Steinbaum, DO, a preventive cardiologist at Lenox Hill Hospital, in New York City. "Youre using all your major muscle groups."
But there are steps you can take to shovel safely and ensure that you survive the winter in one piece.
Back pain
Another common back injury incurred during shoveling is a
herniated disk
, says Victor Khabie, MD, the co-chief of orthopedic surgery at Northern Westchester Hospital, in Mt. Kisco, N.Y. A herniated disk (also known as a slipped disk) is when one of the soft disks between the vertebrae comes out of position and pushes on a nerve.
If your post-shoveling recovery includes back pain that radiates down your leg, its a bad sign. "That may mean you have ruptured or herniated a disk," Dr. Khabie says.