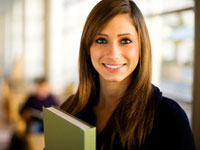 Istockphoto
When Emily DuBois was diagnosed with ulcerative colitis in her sophomore year of high school, she got all the support she needed from her family and responded well to anti-inflammatory medications. Her symptoms even improved.
"The first couple of years were not so hard for me. I took a maintenance drug for about two years and it was great," says DuBois, now 20, of St. Louis. "I got the impression that this disease is easy."
All that changed when DuBois left for Regis College in Denver. By mid-October of her freshman year, the symptoms were back with a vengeance. By November she was back in St. Louis and in the hospital, unaware that she was about to undergo the first of six surgeries. Ultimately, DuBois had her entire colon removed.
Shes doing fine now, but in the meantime, she missed out on a year and a half of college and all the experiences that go along with it.
How does a young person in a new city cope? And, for that matter, how does anyone cope with the shock of a newly diagnosed chronic illness? Although medical experts will help you figure out the right mix of medication, you may also need to connect to others to learn how to handle chronic diarrhea, make dietary changes, and get emotional support.
Support is particularly important during transitions—say, moving to a new city or starting college. New stresses, schedules, and types of food can trigger a potentially devastating flare-up.
Why support is so important
Social support is important not only for disease management but also for later success in life. Not surprisingly, students with active inflammatory bowel disease, including ulcerative colitis, do not adjust as well to college as healthy students, according to a 2008 University of Michigan study published in Inflammatory Bowel Diseases. Frequent trips to the bathroom, along with lethargy and intense abdominal pain, can seriously interfere with academics and social life. But the stakes are higher than that—poor adjustors were more likely to drop out of school, the researchers found.
"Somebody who has ulcerative colitis is having multiple, frequent stools, maybe four to five bloody stools in a day [and] abdominal pain," says Fritz Francois, MD, a gastroenterologist with New York University Langone Medical Center and an assistant professor of medicine at New York University School of Medicine. "They also have this urge, this feeling as if they have to use the bathroom but when they do go to bathroom, they may not pass a lot."
With advance planning, though, there are ways to ease transitions when moving to a new city or setting.
1. Tell new friends about the condition.
At first, when her symptoms were still rare, DuBois only told her new circle of college acquaintances that she had trouble digesting. When she could no longer go out or even climb four flights of stairs to her room, she had to confess the severity of her situation.
"I cant stress enough that having a few close friends understand your disease helps tremendously," she says. A close friend can also call your professors and handle some details of your life.
2. Prepare before you go.
Young people who are leaving their family for the first time are particularly vulnerable, whether they are moving to a new city or starting college.
"For many students with chronic diseases, the family has managed it," says Sarah Van Orman, MD, the executive director of University Health Services at the University of Wisconsin–Madison. "Start one to two years before college [by] getting ready to take care of yourself, seeing your doctor alone, scheduling your own appointments, [and] understanding your disease history."
Students who havent been handling their own life tend to have a harder time, adds Lynn Royster, PhD, the director of the Chronic Illness Initiative at the DePaul University School for New Learning, in Chicago.