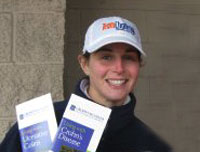 I was diagnosed with ulcerative colitis in 1999. I was in graduate school when I began feeling sick. I was losing weight, and all of a sudden food did not agree with me. I was constantly running to the bathroom—sometimes 20 to 25 times a day.
I knew I needed help so I went to see a gastroenterologist. When my gastroenterologist figured out what was going on, he wanted to admit me to the hospital as soon as possible. I explained that I wanted to finish my last semester of graduate school and that finals were less than one week away. I struggled through finals week and as soon as I finished my last one, I was admitted to the hospital the next day. I dont think I realized how sick I was.
After my initial admission, I was in and out of the hospital and was on and off prednisone for a few years. Unfortunately I had some bad reactions to the first medications that I was given, but I began to improve. Presently there is no specific cause of ulcerative colitis, but there are many things that can trigger a flare-up. Stress played a part in aggravating my symptoms while I was in graduate school.
I had to make some major lifestyle changes. I learned to have a plan and be prepared; now I always know where the bathrooms are when I go out. My doctor told me that I actually have a relatively mild version of ulcerative colitis. I had no idea how bad this disease could be. Even with a mild case, I had to use the bathroom dozens of times a day before I got the disease under control.
I take medication every day
I have been in remission for about eight years. I have a flare-up here and there, but nothing like the symptoms I had immediately before and after being diagnosed. A flare-up can occur at anytime out of the blue. I can feel fine one minute and then realize my stomach has a mind of its own and I have to run to the bathroom.
Prior to my last episode, I had my gallbladder removed. The doctors said it was so inflamed that they couldnt do the minimally invasive surgery and I had to have the more invasive type of surgery in which they open up your abdomen. The good news is that I found that my ulcerative colitis really improved after the surgery.
My ulcerative colitis is now under control with the help of 10 pills I take daily, as well as changes in my diet. I watch what I eat and go to the gastroenterologist every six months. I am active and healthy and I know much more about the things that trigger ulcerative colitis flare-ups, and how to avoid them.