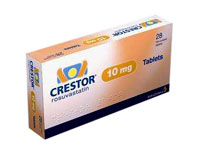 MONDAY, Dec. 19, 2009 (Health.com) — Should people who dont have high cholesterol take a cholesterol-lowering statin? Maybe, according to the U.S. Food and Drug Administration (FDA), which is considering an advisory panels recent recommendation to do just that.
If the FDA adopts the panel's recommendation—the agency isn't required to do so, but typically does in such cases—it would mark the first time that a statin was approved for heart-disease-free people with healthy cholesterol levels but other risk factors, including high levels of C-reactive protein (CRP), a marker of inflammation.
It would also mean that roughly 6 million new patients would be eligible to take a statin—in this case, Crestor (rosuvastatin).
The recommendation "changes medical practice dramatically [and] will work its way into the guidelines," says Steven E. Nissen, MD, the chairman of cardiovascular medicine at the Cleveland Clinic.
Cardiologists are divided over the expanded use of the drug. Some say it will help fight heart disease; others are concerned about the data used by the panel and the potential side effects of statins. Adding to the debate is a new study, published this week in
The Lancet
, that calls into question the strength of the connection between CRP and heart disease.
The panel's decision was based almost entirely on the Jupiter trial, a study funded by Crestors maker, AstraZeneca, that compared a daily dose of Crestor to placebo in nearly 18,000 people who fit the description used by the panel (and who would not be eligible for a statin under the current guidelines).
"There was a 44% reduction in death, heart attack, and stroke among people taking Crestor," says Dr. Nissen. "The benefit was very large and happened very quickly."
"I dont think the new labeling recommendation is really controversial," he adds. "The decision was very straightforward and among the people who treat lipids, this is a no-brainer."