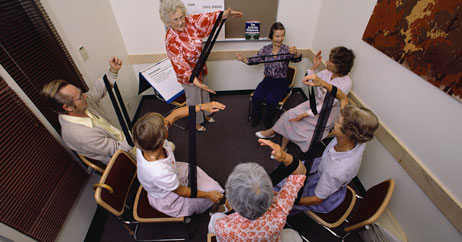 Exercise and losing weight are the most important things an arthritis patient can do, says Bernard Rubin, DO, director of the rheumatology fellowship at the University of North Texas Health Science Center in Fort Worth. But he finds most of his patients don't see getting in shape as part of their treatment plan.
"The problem is that people are very harried, work aggressively, and run around taking care of family. They confuse that with exercise," says Dr. Rubin, "which it's not."
Don't Let Arthritis Ruin Your Sex Life

Ways to stay intimate, stay active, and even relieve pain
Read more
Lessening your load and strengthening your joints
For every unneeded pound of body weight, a knee joint, for example, bears an extra three pounds of pressure. "Losing 10 pounds will take 30 pounds off your joints," says Dr. Rubin. "So what people need to understand is that if they're overweight by 50 or 100 pounds, losing 10 or 15 pounds will make a difference."
Exercise is one way to lose weight, but it has other benefits. Stretching, done carefully, can be a good pain reliever. Increased strength can affect the progression of the disease and the intensity of the pain.
"It's good for improving the mobility of the joint," says Honolulu-based rheumatologist James McKoy, MD, chief of the pain service division at Kaiser Permanente in Hawaii. "The stronger the ligament and muscles are around the joint, the less instability, the less pain, and eventually, as time goes on, less deformity."