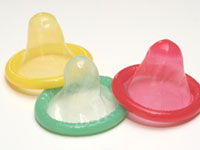 These days men and women are using condoms for three reasons: for birth control, to protect themselves against
sexually transmitted diseases (STDs)
, and as a backup to other birth control methods to avoid slip-ups and accidents. All birth control methods (even
sterilization
), have a failure rate, so by adding a condom, you're more likely to get your effectiveness nearer to 100%.
"We really recommend two methods [of birth control] to have effective protection," says Anne Foster-Rosales, MD, chief medical officer for
Planned Parenthood Golden Gate
. "A condom is a great addition to any female method. It maximizes the pregnancy protection and also protects against STDs."
HPV
. A national survey conducted in 2003-2004 found that 25% of teenage girls had an STD and nearly 50% of African-American girls did.
Many people who have STDs don't actually know they're infected. They may believe they're STD-free and tell you so, when in fact they aren't. If you and your partner are in a monogamous relationship, are using another form of birth control, and have both tested negative for STDs, however, you may decide to skip condoms.