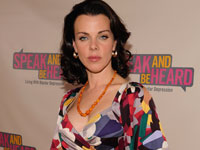 Bipolar disorder, a mental illness involving extreme mood swings between mania and depression, may affect up to 8 million people in the United States. The disease is both
difficult to diagnose
and
difficult to treat
, and many bipolar patients spend years trying to find the combination of medication and therapy that allows them to lead a normal life.
But the support of loved ones is just as important as medication and psychotherapy when it comes to treating the disease. For the first time,
Entourage
actress and
Dancing With the Stars
veteran Debi Mazar talks about her experience coping with a close family member with bipolar disorder.
She's teaming up with the Speak and Be Heard: Living With Bipolar Depression campaign, to help others who may have friends or family members with bipolar disorder.
What were the early symptoms of bipolar disorder?
He* started exhibiting signs of acting odd when he was about 14 or 15. He was a straight-A student, was vibrant, had a part-time job, and had a wonderful relationship with a girl. He was the pride and joy of the family.
He started acting sad all of the sudden and became very reclusive. It hit us like a truck, and we thought it might be something at school or with his girlfriend. Then he got darker. He started chain smoking heavily and having to suppress his tension with a lot of
pot or alcohol
. We couldn't figure out what was going on and the whole family felt helpless. Is he depressed? Was it the social scene or the school?
No matter how much we supported him, he kept getting worse and worse. It got to the point where he would lose weight, gain weight, lose weight, gain weight. He got pale and had secondary infections because he wasn't taking care of his body.
Did medication help?
He became jittery and developed weird habits. Again, we couldn't figure it out. Is it too much coffee? What is it? He had several visits to multiple doctors, had different diagnoses, and took different medication. He tried one antidepressant, and it sent him into a tailspin. He would take something else, and it would lift him up and then he'd crash again a few weeks later. We'd see some sort of rise like he was getting better and then he didn't. It got so very bad, and there were several suicide attempts.
Your life is forever changed, from the moment he or she gets sick until the point when he or she recovers. A lot of the family was in denial about it. They'd say "Oh no, he didn't drive that car into the tree. He just lost control." The family covered it up, kind of a hush-hush thing. It put a lot of pressure on us.
*Mazar declined to identify her relative in order to protect his privacy.