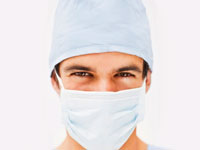 Istockphoto
THURSDAY, Nov. 5, 2009 (Health.com) — A preliminary report suggesting that N95 respirators—filtering devices worn over the mouth and nose—protect against swine flu better than surgical face masks seems to be incorrect, researchers revealed during a meeting of the Infectious Diseases Society of America (IDSA).
In fact, surgical face masks, which are cheaper and easier to wear, may be just as good as N95 respirators. At the very least, researchers cant prove that one is better than the other. Its the latest wrinkle in a continuing debate over how to protect health-care workers from the H1N1 virus, also known as swine flu.
Raina MacIntyre, PhD, a professor of infectious diseases epidemiology and the head of the University of New South Wales School of Public Health and Community Medicine, in Sydney, Australia, says the research team didnt exactly retract the findings.
"We simply did the analysis of the same data differently for the final paper," she explains.
For the new analysis, the researchers removed a control group of nearly 500 health-care workers and made other statistical adjustments. Ultimately, the difference in infection rates between mask and respirator users was
not
statistically significant.
"[The study] still shows a likely superiority of N95s, with half the rate of infection compared to surgical [masks]," MacIntyre says. "But the study was probably underpowered to pick up statistical significance when we removed the control group."
"I would certainly wear an N95 respirator if I were exposed to infectious patients," she adds.