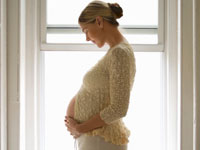 Getty Images
WEDNESDAY, Sept. 30, 2009 (Health.com) — Women who develop a mild case of gestational diabetes during pregnancy tend to have fewer complications and healthier babies if the diabetes is treated, according to the first large-scale randomized trial in the U.S. to address whether such treatment leads to health benefits for mother and child.
As many as 14% of pregnant women in the U.S., or about 200,000 women annually, develop gestational diabetes. This pregnancy-related diabetes can cause the fetus to grow too rapidly, and the excess weight can make delivery difficult and lead to complications. Whats more, gestational diabetes increases the risk of fetal death and preeclampsia, a potentially life-threatening rise in blood pressure in the mother.
However, the benefits of treating gestational diabetes are somewhat controversial; although most obstetricians screen and treat pregnant women for blood-sugar abnormalities, the 2008 guidelines of the U.S. Preventive Services Task Force has said there is not enough strong evidence for or against screening and treating gestational diabetes.
"Almost all obstetricians do screen for gestational diabetes, but some of them have not been particularly aggressive about treating milder cases, reserving aggressive treatment for people with higher blood-glucose results," says lead study author Mark Landon, MD, of Ohio State University Medical Center, in Columbus. "For them, this study serves as notice that aggressive treatment with diet alone is useful for even mild gestational diabetes cases."
Gestational diabetes can be treated with dietary restrictions, the oral drug metformin, or insulin injections. Dr. Landon says that, unfortunately, some women diagnosed with the condition are not even given a real meal plan to follow; instead they are simply advised to watch their sugar intake.
In the study, published in the
New England Journal of Medicine
, 958 women diagnosed with mild gestational diabetes between 24 and 31 weeks of pregnancy were divided into two groups; half were treated for diabetes, half were not. Women were considered to have mild gestational diabetes if they had an abnormal result after taking an oral glucose-tolerance test (a test in which women drink a sugary liquid and blood sugar is measured at regular intervals), but their fasting glucose level (a test in which blood sugar is measured after fasting) was below 95 milligrams per deciliter. Many doctors treat gestational diabetes only if it is more severe, generally considered to be 95 milligrams per deciliter or higher.
The new research, a partnership of 14 different institutions, showed that women were half as likely to have larger-than-normal babies if they were treated. For example, 14% of women who werent treated had a baby that weighed more than 8 pounds, 13 ounces, compared with only 6% who were treated.