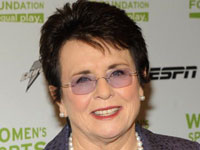 (LIFE.com)
Billie Jean King has faced some considerable challenges in her career and triumphed nearly every time. Shes won six individual Wimbledon and four U.S. Open titles, founded the Womens Tennis Association, beat Bobby Riggs in the Battle of the Sexes, and came out of the closet while still on tour. Now that the 65-year-old former tennis star has been diagnosed with a life-altering disease—type 2 diabetes—she is, naturally, attacking at the net.
King is not only managing her own diabetes, but she is also active in the fight to raise awareness about the disease and is the spokesperson for the
Face of Change campaign
, a traveling photo exhibit that includes personal stories about diabetes.
Nearly 24 million people in the United States have diabetes, and 90% of them have the type 2 form of the disease. Unlike type 1, an autoimmune disease that requires daily insulin injections to survive, people with type 2 can sometimes keep their blood sugar in the safe range by careful eating (mostly by managing carbohydrate intake) and exercise. However, as the disease progresses, many people will need to take pills or insulin injections to keep their blood sugar from creeping into the danger zone.
King is plenty busy. Shes still active in tennis, blogging about current tournaments at
World Team Tennis
, an organization she helped found. (She recently compared Melanie Oudins run at the 2009 U.S. Open, which is being played at the national tennis center that bears Kings name, to Chris Everts 1971 U.S. Open Tournament.)
Still, King took time to sit down with Health.com to talk about her experiences with type 2 diabetes.
Q: Youve been living with type 2 diabetes for nearly two years. How has it changed your life?
A: Ive been really trying to cut down on [carbohydrates]. Im trying to pay attention to my intake. Because I love to eat. I just have to deal.
Q: Most people think type 2 diabetes can only strike obese people with a sedentary lifestyle—not world-class athletes. As an athlete, was your diabetes diagnosis a surprise?
A: No. I have type 1 diabetes in my family, even though type 1 is autoimmune and type 2 is more genetic. Ive known a lot about diabetes all my life. I had a friend in second grade, Fraser Brandt, and thats how I started to learn about the disease because he had to take injections. That was the early '50s. I started asking questions with him.
Anyone can develop diabetes, even an athlete. For example, the Novo Nordisk Donnelly Awards are grants given to four tennis kids with diabetes. Its fantastic. The awards are named after tennis players Diane Donnelly Stone and Tracey Donnelly Maltby, who both worked at World Team Tennis. Diane got type 1 when she was 6 and Tracey when she was 14. So I wanted to do something for them.
Diabetes is something thats been in my life and that now Im dealing with personally.