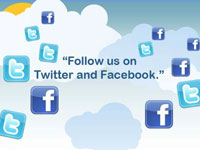 Twitter and other social media sites are often perceived as the ultimate navel-gazing tools. Seemingly a narcissists dream, many think that Facebook status updates and the 140-character Twitter messages (known as "tweets") are really just boring play-by-plays of daily life—
I had granola for breakfast! Im stuck in traffic!
But Laurie Brosius, 31, isnt buying it. Brosius, a business analyst in Dallas, used Twitter to raise $6,000 for a walk for breast cancer research in 2008. "Fifty percent of that came from online strangers," she says. She was able to reach those people in part because her Twitter followers re-tweeted her messages.
In 2004, Brosius started
blogging
about her upcoming wedding. But after she married, she felt a key person was missing from the happy picture—her husbands mother, who had died of breast cancer at age 48 when her husband was 20 years old. "I felt like I missed out on having her in my life," says Brosius. "I felt cheated."
She wanted to raise money for breast cancer research, so she participated in a three-day walk and fund-raiser, but felt she could do more. She had used Twitter to raise a small sum for that first walk, but for the second walk she relied mainly on tweets to direct people to the donation website.
(Anyone can see breast cancer–related tweets by typing
#breastcancer
into Twitters search field.)
Brosius still blogs and says that breast cancer organizations websites are great places to donate. However, Brosius says, they only reach a specific crowd—those already interested in the topic.
"[Social media sites] are reaching people who might not be specifically looking for that kind of information," she explains. "Theyre reaching everyone."