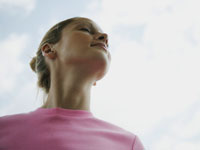 (GETTYIMAGES)
If you've ever seen a brown haze of pollution hanging over your city, most likely your response was, "Ugh. How can I avoid breathing that stuff?" But let's face it, even if you know it's a bad air day, you probably need to grab some sunshine, get in an outdoor run, or get to work.
Polluted air contains particulate matter, lead, ozone, nitrogen dioxide, carbon monoxide, and sulfur dioxide—all of which can cause problems in people with allergies or asthma. Even if pollution is low, airborne pollen and mold can make a trip outdoors particularly daunting for people with respiratory conditions.
How to tell if it's a bad air day
The first step toward protecting your lungs is to know your city or town. More than 115 million people nationwide still live in counties with pollution levels considered potentially harmful to their health.
Air quality varies widely around the United States. Ozone, for instance—which can pose a major problem for asthmatics—tends to be more prevalent in urban areas, though it can be found in suburban and rural areas as well. If you live in Fargo, N.D.—one of the cities with the cleanest air in the nation—you are likely to breathe easier than if you live in Los Angeles, which has the highest ozone levels in the country.
Local weather stations often provide this information on their websites, and radio stations typically give ozone alerts. In addition, many websites can tell you if pollutants, ozone, or pollen counts are high in your area on any given day.
However, its not just pollen or air pollution that can trigger problems. Michael Benninger, MD, the chairman of the Head and Neck Institute at the Cleveland Clinic, in Ohio, says changes in barometric pressure and temperature can also spell trouble for people with allergies to pollen and mold, people with severe sinus symptoms, and even people without allergies.