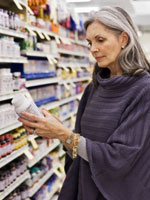 Getty Images
Do you have heartburn that just won't quit? You may have gastroesophageal reflux disease (GERD), a condition in which stomach acid routinely backs up in the esophagus. The most obvious and painful symptom of GERD is killer heartburn.
Because you can grab over-the-counter heartburn remedies quickly at a drugstore without a doctor's visit or a prescription, these are often the first line of defense against GERD.
But a glance down the pharmacy aisle shows a vast array of choices, including Tums, Rolaids, Zantac, and Pepcid, to name just a few. (The latter two are also available in high-dose prescription versions.) Which product is the right one to help you quash the burning pain in your chest?
Heartburn-Easing Foods That Fight GERD

Although it's easy to feel overwhelmed by the options, a better understanding of your heartburn triggers can help you sort through the clutter and choose the right GERD remedy, says Robynne Chutkan, MD, the founder of the Digestive Center for Women in Chevy Chase, Md.
There are three main categories of over-the-counter heartburn treatment, says Dr. Chutkan, who is also an assistant professor of gastroenterology at Georgetown University Medical Center in Washington, D.C. Each has its own advantages and disadvantages.
Antacids
The best-known class of drugs for curbing heartburn are the antacids—think Tums, Rolaids, and Mylanta. Antacids, which contain the salt form of minerals such as magnesium and/or compounds such as calcium carbonate, curb heartburn by neutralizing acids in the stomach. Some antacids are also a supplemental source of calcium. "These products tend to offer instant relief," Dr. Chutkan says. "If you had corned beef and fries or if you overdid it at dinner and are having symptoms of heartburn, antacids are appropriate. Antacids make more sense for discretionary use and rare episodes of heartburn."
Antacids are very fast-acting, and relieve reflux symptoms (especially heartburn) right away, says Mitchell Cappell, MD, PhD, the chief of gastroenterology at Beaumont Hospital in Royal Oak, Mich. "They are relatively cheap and have been around for 50 years or more, as opposed to other drugs which are newer and more expensive," he says.
Standard antacids such as Mylanta or Maalox also are relatively safe, Dr. Cappell says, although some people who use them may experience diarrhea and constipation. "There are not many side effects and you can take them long term," he says. "But you have to take a lot of antacids because they are not as powerful as other heartburn remedies."
So how long is it safe to take an antacid? Dr. Cappell says he doesn't worry so much about toxicity in patients taking antacids long term but is "concerned about patients munching them all the time because they may be suffering from more severe reflux and need a more potent therapy."
Jonathan Schreiber, MD, a gastroenterologist at Mercy Medical Center in Baltimore sums it up like this: "If your heartburn is brief and related to something you ate, an antacid is fine. It will work quickly and there is little downside, but the negative is that an hour later it's gone from your system. If you have a recurring problem, an antacid is not the answer."
Although they do suppress acid and will make you feel better faster, antacids do not heal the lining of the esophagus. The acid churned out by the stomach can erode the lining of the esophagus over time, which can cause Barrett's esophagus, a precancerous condition that can lead to esophageal cancer.