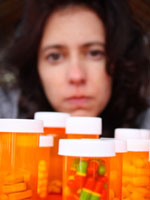 (VEER)
Psoriasis medications that affect the entire body rather than just the skin are powerful and effective drugs that target psoriasis at the source. The red, flaky lesions that characterize psoriasis are caused by a kink in the immune system that causes skin cells to overproduce, and these so-called systemic medications—which include the new generation of
biologics
as well as older drugs such as methotrexate—work by disrupting the parts of the immune system that drive psoriasis.
What puts you at risk
This suppression of the immune system has a big downside, however. It can leave the door open for infections ranging from the common cold to serious—and potentially fatal—fungal infections.
A Healthy Diet for Psoriasis?

Opportunistic infections are especially problematic with biologics, newer drugs made from organic proteins. The biologics known as TNF blockers—a class that includes Enbrel, Humira, and Remicade—carry the FDAs strongest warning on side effects, a "black box" warning that explains how these medications can make you vulnerable to serious infections. Still, the FDA required the manufacturers of these drugs to strengthen the warning even further in September 2008. In April 2009, the pharmaceutical company Genentech announced a voluntary withdrawal of the psoriasis drug Raptiva (efalizumab), less than two months after the FDA reported that three people taking the drug had died from a rare brain infection.
Combining two immunosuppressant drugs, such as a biologic and methotrexate (a common combination in psoriasis treatment) may increase the risk of infection even further.
"Ive had patients who have had pneumonia. I have a patient right now whom we suspect has active tuberculosis," says Craig Leonardi, MD, a clinical professor of dermatology at Saint Louis University. "This isnt common, but your dermatologist needs to be on the lookout for these things, because its in the realm of possibility for anybody who takes an immunosuppressant medication."
What you can do
Despite some alarming reports of infections, experts say that the small risk of infection shouldnt deter patients for whom the treatment is appropriate. Patients and dermatologists should be aware of the risks, however, and should keep an eye out for the warning signs of infection.
"If you have a runny nose and a cough, keep right on taking the drug," says Dr. Leonardi. "But if you develop a fever—thats a great place to call it serious. Its time to call your family doctor and get an appointment right away."
Other signs of potentially serious infections can include sore throat, weight loss, extreme fatigue, and difficulty breathing.
If patients have a very bad cold and are feeling especially weak, it is recommended that they simply skip a dose of their biologic, which is usually administered once or twice a week. If cold and flu symptoms arent getting better after the standard five to seven days, you should contact your family doctor, says Kathy Kavlick, RN, community outreach nurse for the Murdough Family Center for Psoriasis in Cleveland. Persistent, flulike achiness that lasts for more than two days is another potential warning sign, Kavlick says.
If a patient contracts an infection, a primary-care physician will usually put them on a course of antibiotics. In that case, a psoriasis patient should suspend their biologic medication until the course of antibiotics is over (usually about two weeks).