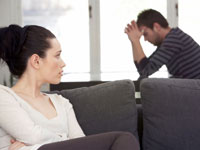 (GETTY IMAGES)
If you're involved with someone with
bipolar disorder
, the romantic relationship may be exciting, exhausting, and stressful. But it will rarely be easy, especially if the object of your affection doesn't comply fully with
treatment
.
Bipolar disorder can be nearly as traumatic for the partners of those with the disorder as it is for the patients themselves. The episodes of
depression
and mania that bipolar people experience—which can lead to emotional withdrawal, out-of-the-blue accusations and outbursts,
spending sprees
, and everything in between—have been shown to induce stress, sexual dissatisfaction, and
money worries
in their partners, as well as depression. Depressive phases, during which the bipolar partner feels hopeless and sad, can drag a healthy partner down, too.
Do Pregnancy and Bipolar Disorder Mix?

Should bipolar women stay on their medications? The answer is different for everyone
Read more
"Mental illness is, on some levels, a contagious disease," says David Karp, PhD, a professor of sociology at Boston College who has studied interpersonal dynamics within bipolar couples. "It brings out very strong negative emotions and feelings of isolation in the partner, who struggles so hard to separate the illness from the patient."
Relatively few studies have been conducted on the effects of bipolar disorder on relationships, but the research is nearly unanimous that the disorder tends to cause both practical and emotional difficulties for couples.
For starters, the ups and downs of bipolar disorder can disrupt the rhythms and routines of a household. In a 2005 survey of people with bipolar partners published in
Bipolar Disorders
, more than half of the participants reported that their partners illness had reduced their socializing, required them to assume more household responsibilities, forced them to take time off of work, and caused financial strain. The participants also reported that their
sex lives sagged
when their partner was in a manic or a depressive phase; three-quarters of the women who were interviewed and 53% of the men complained of
infrequent sex when their spouses were depressed
.
Another study of bipolar caregivers found that 86% of the participants characterized the stress they experienced as a result of their partners illness as "major." And 9 out of 10 said they found it difficult to keep the relationship going.