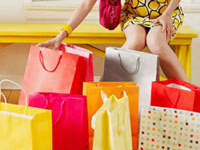 (GETTY IMAGES)
Like many Americans, Kim and Peter Fanelli of Lakewood, Colo., are struggling to stay afloat during the current economic crisis. As an added burden, the couple has
bipolar disorder
. Peter's chauffeur job is offering fewer shifts, but he needs to stick with it because he becomes eligible for
health insurance
in February. Kim needs to be in the right frame of mind to offer numerology readings, and she hasn't been. Lately, her depressive state has included
suicidal thoughts
. The Fanellis are getting by on Peter's wages; Kim's Social Security disability payments; and cost-saving tricks like making more homemade refried beans, cutting out all leisure activities, and driving less. "The fear is palpable," says Kim. "Our current situation is quite bleak."
Bipolar Disorder Is Different for Women

Hormones, gender roles, and misdiagnosis all play a role
Read more
Many bipolar people already live in a boom-or-bust financial cycle, independent of the current economy. Spending sprees, after all, are common during
manic periods
. However, mania can be triggered by stress, which is naturally higher during an economic crisis like the one Americans are facing now.
"There's no question this is a time when people are really struggling with depression," says Ken Robbins, MD, a clinical professor of psychiatry at the University of Wisconsin–Madison.